Eugene 'Hideaway' Bridges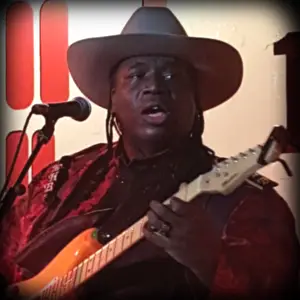 Any blues fan familiar with the tradition of the traveling guitar man, whose home is wherever he's found a gig that week, should find much to admire and revere in Eugene 'Hideaway' Bridges. Eugene is the 21st century version of the itinerant blues man. He's a nomadic musician who, at any given point in time may be living in Chicago or Amsterdam or Melbourne, Australia. And he also happens to play guitar licks as tasty as anything you'll find on a Texas barbecue grill.
Born on a Bayou, Raised on the Blues
You might imagine that having a successful blues-singing father would give a youngster an early start toward a career in music. But in Eugene's case, that start was early enough to make his personal origin story hard to believe. Born in 1963, young Eugene was playing guitar in father's band by 1968. That's right. He was performing music at the age of five. Of course, by then, he'd already had three years of guitar-picking experience under his belt. He'd receive his first guitar at two.
His father Otherneil Bridges Sr (Known as Hideaway Slim) taught him a basic honky-tonk riff after noticing his son plucking away at toy box with rubber bands substituting as strings. When instructing Eugene he said, "Don't stop till you hear that guitar sing."
The fourth for five children, Eugene's large New Orleans family influenced him from all imaginable directions. In addition to his father's giant legacy, his brothers sang in a gospel group called the Bridges Brothers. And his musical lineage must have been helped by the fact that his mother was a distant relative of Anna Mae Bullock, later known as Tina Turner. As Hideaway Junior says, "My childhood was music." He wasn't kidding.
Teenage Blues Star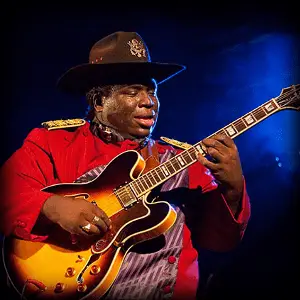 With adolescence came a stint in the Air Force. But for Eugene this just meant more music in a different setting. He played in the Air Force band for three years. Upon leaving, he joined the New Chosen and Mighty Clouds of Joy. But even years of travel and success in the realm of gospel music left him with one major goal unfilled. He still hadn't landed a record deal.
Signed, Sealed, Delivered
A chance encounter in Paris catapulted Eugene to the next big stage in his career. He met Big Joe Turner, bassist for B.B. King and was then offered a spot in Joe Turners Memphis Blues Caravan. From there he formed an outfit under his own name (Joe Turners Memphis Blues Caravan) and signed with the Blueside label.
Next came the release of his first album, Born to Be Blue, produced by
Mike Vernon
whose resume reads like a hall of fame of blues and rock performers (David Bowie,
Fleetwood Mac
,
Eric Clapton
,
John Mayall
, etc). For his titanic efforts, he was awarded the prize of Vocalist of the year by the UK's Blueprint magazine.
A year later singed with Armadillo Music and released Man Without a Home, granting him the kind of international airplay he'd been craving. And the albums kept coming and coming. And as with any artist worth knowing, his work matures with grace and an inimitable style, always encouraging the listener to hold on a little bit longer.
A Little Bit Stronger
Hold on a Little Bit Longer is Eugene's latest release and although the fifty-three year old doubtlessly has many more masterworks in him, his newest album feels like a crowning achievement. It combines the brashness and flamboyance of a younger guy with the cool, centered approach of a man who's been around the block more than a few times – and has the stories to prove it.
Surely there will be more great albums for him, but until then, there's always another tour and another.