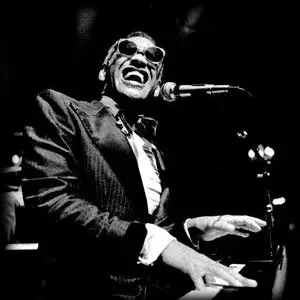 Ray Charles was an important figure in 50s R&B as he fused Blues and Gospel into an early version of Soul Music. His piano style owed a lot to Jazz forms, and his Blues playing was full of emotion, but Ray's wide-ranging taste included Country music. His skill as a composer and arranger, as well as a consummate performer, recognised no boundaries of genre. Ray went on to 'cross over' into the pop market, with phenomenal record sales, tremendous  celebrity, Hall of Fame inductions, a Grammy, Presidential acclaim and an enduring ability to sell out concert halls, even in his later years. That distictive voice was recognised all over the world, and he could rock out on piano with the best of them.
Born in 1930 to a poor family in Albany GA, Raymond Charles Robinson began to lose his sight, probably from glaucoma, by the age of five. The family had relocated to Greenville FL, and Ray attended the St. Augustine School for the Deaf and Blind until he was 15, by which time both his parents had died. Working in Florida as a pianist in a variety of bands, Ray saved up enough money to get as far away from there as he could, and settled in Seattle in 1947. He joined The Maxine Trio, and their 'Confession Blues' on the DownBeat label made No.2 in the R&B chart. Signing for Swingtime Records as a solo artist in 1949, he became known as 'Ray Charles' to avoid confusion with the boxer 'Sugar Ray' Robinson, and he enjoyed two more good R&B hits with that label, moving towards the
West-coast
'lounge Blues' of
Charles Brown
. During this period Ray was a busy man, touring with
Lowell Fulson
, forming a band to back
Ruth Brown
, and later arranging and playing on
Guitar Slim
's hit 'Things I Used to Do' in New Orleans.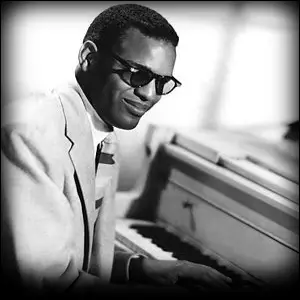 Ahmet Ertegun signed Ray to Atlantic in 1952 and a confident voice began to emerge on a series of R&B Top Five hits as his strong piano style dictated the arrangements on his recordings. 'Mess Around' and 'It Should Have Been Me' went close to the top of the R&B chart before Ray's own song 'I Got a Woman' made No.1 in 1955. Ray's records began to feature in the Hot 100 as well as the R&B chart, but he also cut jazz albums like 'Soul Brothers' with Milt Jackson and David 'Fathead' Newman for Neshui Ertegun's Atlantic Jazz imprint, and appeared at the 1958 Newport Jazz Festival. In 1959, Ray had a big R&B hit with Nappy Brown's 'Night Time is the Right Time', but when 'What'd I Say' went to No.6 in the Hot 100 later that year, despite being denied some airplay for being too suggestive, Ray had arrived as a major star. He signed a lucrative deal with ABC that also gave him creative control, which allowed him to record some hugely popular country albums, while continuing to produce massive selling singles like the Grammy winning 'Georgia on My Mind', 'Unchain My Heart', 'I Can't Stop Loving You' and Percy Mayfield's 'Hit the Road, Jack'. Ray set up his own Tangerine Record label under ABC and this was the vehicle for some of his own releases alongside those of Louis Jordan, Percy Mayfield, Ike and Tina Turner and his backing singers The Raelettes.
Ray's massive breakthrough hit 'What'd I Say';
An arrest for possession of heroin in 1965 was an ironic setback for Ray after his No.4 single 'Busted', but after a year on parole and away from performing, he continued to score chart hits. Although Ray never repeated the tremendous record sales of the early 60s, his 72 entries into the Hot 100 up to 1975 are a phenomenal achievement. After making a cameo appearance in the Blues Brothers film, Ray signed for Columbia Records to pursue his interest in Country music, including his No.1 Country hit 'Seven Spanish Angels' with Willie Nelson, and collaborations with George Jones and Hank Williams Jr. Other duets with Chaka Kahn (the Grammy-winning 'I'll Be Good to You'), Quincy Jones (a friend from the Seattle days), Billy Joel and BB King serve to emphasise the scope of Ray's public appeal and the respect he had earned among his peers, winning him a 'Lifetime Achievement' Grammy in 1987.
The heartbreaking voice and sublime piano of a Genius, playing his own song 'Hard Times';
Ray performed at Bill Clinton's inauguration in 1993, repeating a service he had provided for Ronald Reagan eight years earlier, and he continued to release the occasional record, appear in TV sit-coms, and fill concert halls all over the world for the rest of his life. His last performance came in a ceremony to dedicate his studio as a Historic Landmark of LA, and he passed away in that city later in the summer of 2004. Obituaries and a posthumous album used the word 'Genius' to describe Ray, and it's hard to disagree.