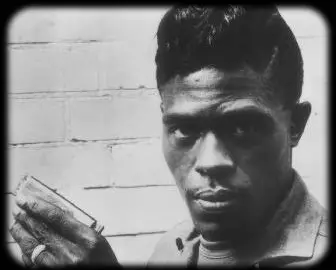 Junior Wells' wailing harp lines became one of the iconic sounds of Chicago Blues, following the example of the men he most closely emulated, John Lee 'Sonny Boy' Williamson and 'Little Walter' Davis. Junior had several spells in Muddy Waters' band and a long informal partnership with Buddy Guy confirming his place in the top rank of Chicago Blues harp players.
The man had an exceptional Blues voice too, and a passionate delivery that would have made him a big star even if he had never blown a note!
Born Amos Blakemore in Memphis in 1934, he learned to play harp with the help of another young player, Junior Parker. Aged just 12, he went to Chicago, where he teamed up with Dave and Louis Myers, two young men up from Mississippi. They started off playing house-parties and street-corners, and there are stories of them jumping on to streetcars to continue playing when the rain got heavy! By 1948 they were getting a reputation playing the Southside club scene as 'The Three Deuces'. They changed that to 'The Three Aces', and when they recruited jazz drummer Fred Below in 1950 they settled on 'The Aces'. They were one of the hottest bands around; with the Myers boys tight guitar and bass lines and Fred's distinctive shuffle behind Junior's soulful vocals and swaggering harp lines.
Junior playing with the Myers Brothers, Willie Dixon and Elmore James;
Their success as a live band meant that when Muddy's harp player Little Walter had a big solo hit with 'Juke' in 1952, he needed a hot band, so he commandeered The Aces and changed their name to The Jukes. Junior's pay-off was a job in Muddy's band, but Leonard Chess insisted that Walter played on Muddy's recordings. The old Aces returned the favour by backing Junior on his records, including 'Hoodoo Man', 'Eagle Rock' and 'Junior's Wail'. This sweet deal lasted for little more than a year because Junior was drafted. Not suited to military life, Junior deserted and went back to Chicago where he cut some tracks with Muddy, but he eventually had to go back into the Army. When Junior was discharged in 1955, he re-formed The Aces to play the Chicago clubs and the Southern circuit, and recorded for the Chief label. 'I Could Cry' and 'Lovey Dovey, Lovely One' were minor local hits, but 'Little By Little' and 'Messin' With the Kid' with Earl Hooker's tasteful slide-guitar work, established Junior as a major Blues voice. The Blues revival got a jump-start when bands like the Rolling Stones brought it back to the American charts, and Junior's contribution was the seminal album 'HooDoo Man Blues' in 1965 with Buddy Guy on guitar under the disguise of 'Friendly Chap'. This was the start of a long, loose relationship between the two men that blossomed into a legendary partnership. Junior's whisky-soaked vocals got a work-out on 'Up In Heah!' and 'You're Tough Enough' which both rode high in the charts, and Junior and Buddy toured the States and Europe, as well as becoming a Chicago club institution. They recorded many live albums perhaps the best of which was recorded at the 1974 Montreux Festival and issued as 'Drinkin' Dynamite and Smokin' TNT', showing their rapport as both musicians and friends.
Recommended Album
The original album is essential listening, but this expanded version with unissued songs, alternate takes and studio chat, is simply unmissable.
Junior and Buddy lay it down in Montreux;
Junior played with Muddy's band again, on tours and around the Chicago scene and was a welcome guest on many other Blues stars gigs and recording sessions. In 1990, Junior cut the album 'Harp Attack!' with James Cotton, Carey Bell and Billy Branch where all four harp legends traded licks in a mutual tribute, but Junior's next few 'best of' albums were mundane by comparison. He certainly got his mojo back for another outing with Buddy at his Legends Club in Chicago but even that was eclipsed by 'Come On In This House' in 1997. Junior's harp sounded refreshed and revitalised as he was backed by some young slide players; Corey Harris, Alvin Youngblood Hart, Derek Trucks and John Mooneycontributing to some classic Chicago repertoire. This proved to be Junior's swansong, although he made a posthumous cameo in the film, Blues Brothers 2000. Junior was diagnosed with cancer and while under treatment he suffered a heart attack, which sent him into a coma from which he never recovered. He died on January 15th 1998.