Specialty Records was one of the independent labels that made the West coast a new and fast-growing source of Blues music after WWII. Owner Art Rupe was an extremely 'hands on' in running the company, discovering artists and repertoire, producing records, supervising the pressing plant and setting up his own national distribution network. After a couple of false starts, Art's company rode the wave of R&B, Gospel and Rock'n'Roll until he retired from record production in the 60s to pursue philanthropic works.
Arthur N Goldberg was born in Greenburg PA in 1917, the son of a furniture salesman who also played bass. After graduating from College, Art enrolled in a business course at UCLA and about this time he changed his name to Rupe, an ancestral variant of his family name. He spent the War years working in shipbuilding and decided to get into music when peace came, so he became a partner in Atlas Records who promptly lost all his money. He got hold of every Gospel, Blues and Jazz record he could find and analysed what made the best ones work. Seeking a big 'churchy' sound, he set up Juke-Box Records to record '
race music
' and began to search for talent in south-central LA.
Roy Milton
's first release sold well, but Art wanted a free hand in his business affairs, so he sold out to his partners and set up Specialty in late 1946. He persuaded Roy Milton to sign for him and Roy enjoyed 19 Top 10 records with the label.
In 1950, Specialty had its first R&B No.1 with Joe Liggins' 'Pink Champagne'. Signing the talented Percy Mayfield to the label, Art also recorded many Gospel acts, including The Pilgrim Travellers, The Soul Stirrers, Alex Bradford, Brother Joe May and Sister Wynona Carr. Art sent producer 'Bumps' Blackwell to open a New Orleans office, where he picked up Lloyd Price who soon topped the R&B charts himself with 'Lawdy Miss Clawdy' in 1952. Guitar Slim also signed on in New Orleans, but when Lloyd brought in a demo by Little Richard they really hit paydirt. The 1955 hit 'Tutti Frutti' put Richard and Specialty in the big league, and the big hits kept on coming. Art had been shrewdly building up his own distribution network, and his eye for talent was keeping his own pressing plant very busy. He was not infallible however, because when The Soul Stirrers lead singer Sam Cooke wanted to release a secular track 'You Send Me', Art was not interested, but when Sam took it to Keen Records it sold 2m copies, and topped both the Hot 100 and the R&B charts.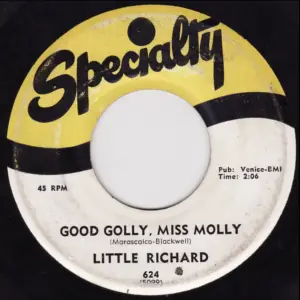 When Little Richard went to Bible College in 1958, things slowed down considerably at Specialty. Producers Sonny Bono and Barrett Hansen (later Dr. Demento) continued with the A&R work as Art looked after publishing, and concentrated on his other business activities. His investments in oil and gas made him very rich, and he set up the Arthur N Rupe Foundation which funds scholarships and other benevolent causes. Specialty Records, with its amazing back catalogue, was sold to Fantasy Records in 1990.
Art Rupe died on April 15, 2022, at his home in Santa Barbara, California. He was 104 years old.