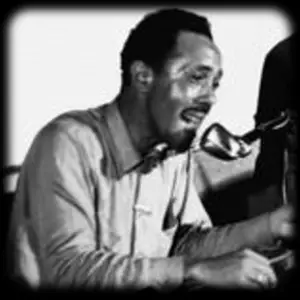 Lap-steel guitar player Hop Wilson was Texas born and bred, and almost unknown outside his home state, but through his influence on Johnny Winter and Jimmie Vaughan, his sound still echoes today. Ronnie Wood is another fan of Hop's guitar licks, because Hop could also play a mean slide on a conventional guitar. A contemporary of Clarence 'Gatemouth' Brown, Hop did not go on to world fame, but his licks turn up all over Texas roadhouse Blues.

Harding Wilson was born in Grapeland Texas in 1927 and his incessant blowing of a mouth-harp as a kid got him the name 'Hop', a corrupted nick-name. When he was a teenager he started playing guitar, and when he acquired an 8-string steel table guitar (non-pedal), he began playing on the local Houston scene. He was drafted as soon as he was 18, but when he got back from WWII he decided to be a musician. He teamed up with drummer King Ivory Lee Siemen and string-bass player 'Ice Water' Jones to play the local clubs and they eventually got a record deal with the small Goldband label operating out of Lake Charles.
This wild, rough-edged style on 'Chicken Stuff' and 'Rockin' in the Coconut Top' got them a few regional hits in the late 50s, but they never troubled the national charts. Further recordings took place on the drummer's own Ivory label in 1961 but sadly, Hop was never going to be a big star. He continued to play the Houston clubs until his death in 1975.
Hop and his Buddies play some Steel Guitar Flash!