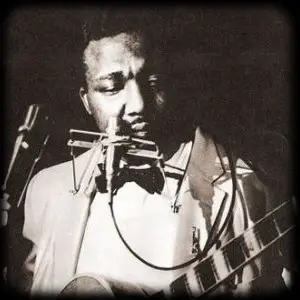 J B Lenior was a uniquely talented musician. Born in Mississippi and surrounded by the Blues from an early age, he often used African polyrhythms which he would beat out on the sound-box of his guitar as he played his delicate Blues. His high, sweet voice and his taste in stage costume might have made him a Soul superstar, but his incisive, political songwriting cut him out of the mainstream, and his needless death robbed us of a great talent.
In 1929, J B (his full given name) was born in Monticello MS and took after his guitar-playing father in studying the work of
Blind Lemon Jefferson
. As a teenager J B went to New Orleans where it is said he played his rhythm-heavy boogies with
Rice 'Sonny Boy II' Miller
and
Elmore James
. By 1949 he had made his way to
Chicago
where
Big Bill Broonzy
introduced him to the club scene, and his talents allowed him to play with
Muddy Waters
,
Memphis Minnie
and
Big Maceo
. He got a record deal with JOB in 1950, and some of his early sessions, featuring
Sunnyland Slim
and
Leroy Foster
, were leased to
Chess
. The political content of 'Korea Blues' and 'Deep in the Department Blues' didn't stop them selling well. J B's 'Eisenhower Blues' of 1954, however, had to be re-jigged by Al Benson's Parrot label, and re-issued as 'Tax Paying Blues' to save offence. Later that year, J B cut his most enduring song ' Mama, Talk to Your Daughter', which was covered many times and led to several follow-up records.
J B's biggest hit 'Talk to Your Daughter';
J B's humorous side came out with 'Don't Touch My Head!' about his 'process' hair-do and he also developed a penchant for fancy stage clothes including a fabulous tiger-striped tail coat!
'I Feel So Good' features that tail-coat!
J B switched labels a few times as the decade turned, and he began to lace his boogie style with more complex African rhythms and he was billed as 'J B Lenoir and his African Hunch Rhythm' on the USA label. The American Blues Festivals were gathering momentum in Europe in the mid-60s and promoter Horst Lippman arranged for J B to record a couple of acoustic albums in Chicago, supervised by Willie Dixon. These sessions left J B free to express himself, and he grabbed the chance with songs like 'Alabama March' and 'Shot on James Meredith' about a Civil Rights campaigner, and 'Vietnam Blues' before the anti-War movement had even got properly started.
Tapping out cross-rhythms on his guitar while fingerpicking and playing slide, J B's fine sweet voice showed an artist at the peak of his powers. Late in 1966, J B moved to down-state Illinois and a few months later he was involved in an automobile accident. He was discharged from the hospital without proper care and he died three weeks later from an injury-related heart attack.
'Vietnam Blues' from March 5th 1965;