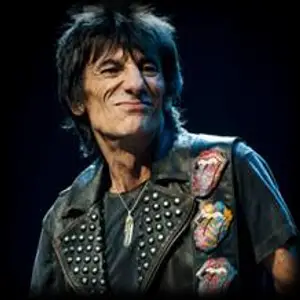 Ron Wood is best known as the mirror image of Keef Richard cranking out guitar riffs for The Rolling Stones behind the exuberant Mick Jagger and in front of the inscrutable Charlie Watts, as they continue to fill the world stage. He performed in similar style with The Faces, but outside the lime-light, there is more to Ron than meets the eye.
Ronald David Wood was born in Hillingdon, just outside London, in 1947 into a family of 'water gypsies' who had always lived on narrowboats on England's extensive canal system, with Ron's generation being the first to be born on dry land! His older brother Arthur (Art) was a Blues fan and a friend of
Alexis Korner
and
Cyril Davies
and, in 1962, he helped them set up
The Ealing Club
which became the cradle of the
British Blues Boom
. When Ron got a guitar and formed his first band The Birds in 1964, they played at Ealing and were signed by Decca Records. They released a few singles, but when the American band The Byrds arrived to tour, legal hassles bogged them down and The Birds split. Ron was also studying Art at Ealing College, where his contemporaries included Pete Townsend and Freddie Mercury. Switching to bass guitar, Ron joined The
Jeff Beck
Group, playing on their seminal albums 'Truth' and 'Beck-Ola' with Rod Stewart, another Ealing Club alumnus. Rod had already recorded a solo album when tensions grew within the band in 1969, and it didn't last much longer.
Ron with Keef and Rod from 1974;
The Small Faces had just lost their singer Stevie Marriott, so Rod took over vocals, Ron took up guitar again and, as The Faces, a stadium-rock phenomenon was born. Ron co-wrote much of their good-time Blues-Rock material, with Rod and bass player
Ronnie Lane
, on four massive albums and they were constantly touring the world. When Lane left and Rod's solo ambitions grew, The Faces looked finished so Ron began his long association with The Stones. Mick and Keef had played on Ron's own solo album in 1974, and when Mick Taylor left the following year, Ron toured with the Stones and joined permanently soon after. Ron continued to make solo albums, promoting them with American tours and Festival appearances with The New Barbarians, featuring Keef and bassist Stanley Clarke.
Just a man with a guitar, playing the Blues;
Ron has been a Stone for best part of four decades, but he maintains a life outside that Rock'n'Roll Circus. Seven solo albums and several live recordings stand alongside collaborations with Rod Stewart,
Bo Diddley
, the Red Hot Chilli Peppers and Pearl Jam. His Wooden Records has released albums by The New Barbarians and his daughter Leah Wood among others; he has authored three books, and his regular work for Absolute Radio and his TV interview show all keep him busy.
However, Ron's other career is as a respected painter and fine artist. His work has been favourably reviewed by serious critics; he has been commissioned many times; had his fabric designs produced by the prestigious Liberty & Co.; produced several album covers, and he has a had a long relationship with galleries in London and San Francisco. So if he ever gave up his 'day job' with The Stones, at least he has something to fall back on!