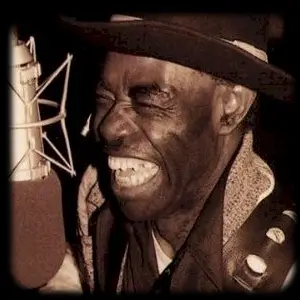 The distorted slide-guitar of Elmore James electrified Chicago in the early 50s, and the effects were heard down the years in the work of a generation of players who followed him, most notably 'Hound Dog' Taylor and JB Hutto. Arrayed in bright suits and hats and using a 50-foot guitar lead, JB's wild and exuberant stage act made an unforgettable show. His incomprehensible vocals and his focus on intensity rather than virtuosity, meant every JB gig was an emotional event.
Joseph Benjamin Hutto was born in Blackville SC but shortly after his birth the family moved to Augusta GA. He sang with his six brothers and sisters as The Golden Crown Gospel Singers, but it wasn't until JB moved to
Chicago
in the late 40s that he took to the Blues. JB worked as a drummer in a bar band and learned some harp, but he took up guitar after meeting Elmore James. Soon after that fateful event, he formed The Hawks with another guitar player, lining up in front of a harp and washboard. They played a lot of bars and parties before landing a record deal in 1954 with the
Chess
subsidiary Chance, but none of the singles sold well and a disillusioned JB decided to give up music to take a job as a janitor.
'Too Much Alcohol' is from the 60s.
With the death of Elmore James in 1963, JB was tempted to pick up his guitar again, and another version of The Hawks became the house band at Turner's Lounge. He recorded some songs for the 1966 album 'Masters of the Modern Blues' with backing from Shakey Horton and Fred Below, and then contributed several more to the 'Chicago/The Blues/Today' series. New audiences began to open up for Blues players as British rock bands came to America to explore the roots of their music. Exploiting this new interest, JB worked up an exciting stage show, with ideas like shiny suits and long guitar leads borrowed from Guitar Slim, and blistering slide-guitar licks crackling from his fingers. It wasn't all bluster, as his 1968 album 'Hawk Squat' makes clear, as Sunnyland Slim and Dave Myers back JB on some of the most raw-boned, good-time Blues you will ever hear.
J B makes a subdued but soulful TV appearance in 1981;
JB was always a popular guest on the Festival circuit but it was in the clubs, where he could take his anarchic spirit right into the audience, he truly excelled. His 1973 album 'Slide-winder' sold well but JB was shocked when his friend and fellow Elmore devotee 'Hound Dog' Taylor died in 1975. 'Hound Dog's' Houserockers,
Brewer Phillips
and Ted Harvey, took JB as their frontman for a while to keep the 'Hound Dog's' spirit alive, and they recorded a few tracks at Boston's Tea Party event in 1977. JB made Boston his home and formed The New Hawks there, recording the great albums 'Slideslinger' and 'Slippin' and Slidin'. These early 80s discs show JB had lost none of his energy as the years went by, but sadly he died from cancer in 1983. His legacy is carried on by his nephew, Li'l Ed Williams as he leads his Blues Imperials through some slide-induced madness.