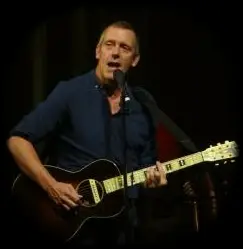 Highest paid actor in a TV series for his work in 'House', film-star, best-selling novelist and hilarious partner to Steven Fry in UK comedies, Hugh is an unlikely Blues icon. His first album, 'Let Them Talk' featured 10 classic Blues songs, and included guest appearances from Dr. John, Tom Jones and Irma Thomas. It made No.1 in the UK album charts and was No.2 US Blues Album and it also charted in 14 other countries around the world. A documentary film showed Hugh driving from New Orleans, where he played with some legendary figures, to his destination in Los Angeles where he played a concert aboard the Queen Mary. This was the site of a live album cut by Professor Longhair in 1978, which gave Hugh his enduring love of New Orleans piano Blues when he first heard it as a teenager. Hugh issued a second album 'Didn't it Rain', with guest Taj Mahal, in May 2013 which went to No.3 in the UK album charts. He tours with the excellent Copper Bottom Band, and is a fervent supporter of The Black Cats!.
Hugh is a superb pianist with a deep affection for the music and culture of New Orleans.

This thoroughly nice chap can play some boogie-woogie too!