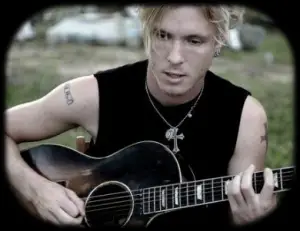 When a seven-year-old kid gets to meet someone like Stevie Ray Vaughan, there's a good chance he'll pick up a guitar and try to play some Blues-Rock. Kenny Wayne Shepherd took up the challenge with both hands and made a big name for himself as a young Master of the Stratocaster. Displaying plenty of guitar flash on a series of hit albums, Kenny knows that the roots of his music lie in the fertile ground of the Blues and paid some serious dues when he played with many of his heroes on a superb album a few years back.

Born in Shreveport LA in 1977, Kenny took that early meeting with SRV seriously and when he was 13, he was good enough to share the stage with New Orleans guitarist and mentor Bryan Lee. Kenny's father Ken Shepherd was a Blues fan, a local radio character and concert promoter, and his talent as a manager got Kenny a deal with Giant Records when the kid was barely 18. Kenny's first album 'Ledbetter Heights' sold half a million units and yielded three chart singles. With singer Noah Hunt on board, the follow-up album 'Trouble Is' went platinum too, and the single 'Blue on Black' topped the Rock Chart for four months when Kenny was just out of his teens. Two years later, 'Live On, also topped the Billboard Chart, and in fact all eight of Kenny's albums, including the 'Live In Chicago' concert, have topped the Billboard Blues Chart, which is quite a distinction in itself.
Kenny gives 'Voodoo Chile' a serious workout!
Kenny's music is best appreciated in live performance, which he describes as "total fulfilment". Given the chance to stretch out on stage, his influences become clear as he pays homage in his music to SRV, Hendrix, Albert King, Slash and early Fleetwood Mac among others. In 2004, Kenny took the Double Trouble men Chris Layton and Tommy Shannon on an Blues adventure resulting in the album '10 Days Out' playing with a long roster of Legends like BB King, Clarence 'Gatemouth' Brown, Henry Townsend, 'Honeyboy' Edwards, Hubert Sumlin and Pinetop Perkins.
This superb project, subtitled 'Blues from the Backroads' gave us an album and DVD released in 2007 showing how contemporary Blues-rock can be overlaid on traditional Blues forms with fantastic results. Kenny's latest albums 'How I Go' and 'Goin Home' topped the album charts as usual as Kenny continues to mature from guitar prodigy to Blues Master.
Kenny cracks out a great solo as he mixes it with some Legendary Chicago Bluesman;