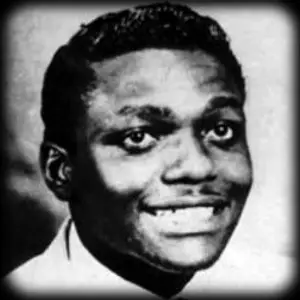 Jackie Brenston's 'Rocket 88' is often cited as the first Rock'n'Roll record. Its phenomenal success in 1951 prompted Sam Phillips to set up Sun Records the following year, and then keep his ears open for a handsome white kid who could sing this rocking R&B like Jackie did. Although he never had another big solo hit, Jackie played sax in his cousin Ike Turner's band for years, and contributed many driving baritone sax solos to The Rhythm Kings records.

Jackie Brenston was born in Clarksdale MS in 1930 and when he returned from military service, he took up playing tenor sax. Soon he joined his cousin Ike Turner's outfit, The Rhythm Kings, to play around the Memphis scene. Ike took his band to Sam Phillips' Memphis Recording Services in March 1951, to record a song Jackie had written. Jackie's frenetic vocals were backed by Ike's wild piano, 17-year-old Raymond Hill's tenor sax and Willie Kizard's fuzzy guitar. In the days before effects pedals, guitar sounds were often accidental, and Willie's amp had a broken speaker cone that gave a tone that Sam Phillips loved and used on many classic Rock'n'Roll tracks. A Rocket 88 was a big-engined Oldsmobile, by the way, and Jackie's slurred lyric about booze, girls and cars set the template for a lot of teenage music that followed. Billed as Jackie Brenston and his Delta Cats, the tapes were leased to
Leonard Chess
and it gave Chess Records their first No.1 hit and stayed at the top of the Billboard R&B charts for five weeks, becoming the second best-selling R&B track of the year.
This certainly sounds like Rock'n'Roll to me!
Jackie's subsequent records for Chess didn't repeat that success, and so he joined
Lowell Fulson
's band, which toured constantly and recorded on Chess's Checker subsidiary. After a couple of years, Jackie rejoined Ike's band, contributing some stupendous baritone sax solos and wild vocals to The Rhythm Kings show, and on records like 'Gonna Wait for My Chance' and 'Much Later'. For several years Jackie had been struggling with alcohol problems and he left Ike's band in 1963. Apart from some sessions with
Earl Hooker
, he did not perform again. Jackie worked occasionally as a truck driver until he died from a heart attack when he was 49 years old.