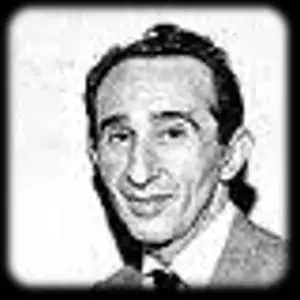 Lew Chudd was one of the most prominent label owners of the 50s, who promoted the idea of cultural diversity not only by recording black artists, but by hiring black executives too. Always a shrewd businessman, he oversaw the recording career of Fats Domino during the period that made him a world star, and pioneered crossover country acts like Slim Whitman as well as pop acts like Ricky Nelson and Frankie Ford.
Lewis Robert Chudd was 36 when he set up Imperial Records in LA in 1947. He had started out as a radio producer, becoming head of NBC's Los Angeles section, and worked for the Office of War Information before setting up Imperial, no doubt aware of the success of the
Bihari Brothers
' Modern Records set up a couple of years earlier. The first Imperial releases were by Mexican artists like Lalo Guerrero and some folk singers popular on the LA scene, but on a scouting trip to New Orleans in 1949, Lew hit paydirt. Trumpeter
Dave Bartholemew
took him to the Hideaway Club to see a chunky kid play piano and from that meeting a legend was born. Lew signed
Fats Domino
to the label, enlisted Dave as songwriter/producer and took them round to
Cosimo Matassa
's J&M studio. Fats' first single 'The Fat Man' sold a million copies and the follow-ups sold well enough for Lew to show his faith in Fats with a four year contract, sealing the deal with a shiny maroon Studebaker Champion as a bonus.
The revenue stream provided by Fats' records enabled Lew to make Imperial one of the strongest independent labels of the 50s, especially when the big crossover hits like 'My Blue Heaven' and 'Blueberry Hill' came around. He signed T-Bone Walker, Huey 'Piano' Smith, Smiley Lewis and Jimmy McCracklin to Imperial and his close relationship with many radio DJs meant that his products got good airplay and resulting sales. Imperial's coffers were swelled by sales of pop singles by the chart topping Ricky Nelson and the yodelling country star Slim Whitman. Lew was one of the first music industry bosses to spot the advantages of consolidation and in 1960 he bought the Aladdin label from Eddie and Leo Messner. In 1963 he took over the Minit label, adding the talents of Irma Thomas and Ernie K-Doe to the roster, but in retrospect many of those artists had fallen from fashion and were no longer big sellers. Fats Domino was Imperial's biggest star, and when Fats decided to leave the label in late 1963, Lew took it as a personal betrayal. He sold the label to his major distributor, Liberty, and retired from the business. Lew died in Los Angeles in 1998.