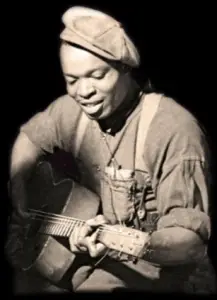 Buddy Moss was at the heart of a group of gifted musicians that defined early Piedmont Blues. A harp player who became a leading exponent of fingerstyle guitar, Buddy's career was interrupted when he went to jail for murder but his greatest problem was his spiky character that made him extremely difficult to work with.
Born into a rural Georgia sharecropping family in 1914, Eugene Moss taught himself to play the harp, and as a teenager he could be found playing on the streets of Atlanta with guitarist Curley Weaver.

The pair teamed up with
'Barbecue Bob'
Hicks and his brother
Charley Lincoln
, among others, in a loose collective known as The Georgia Cotton Pickers, who recorded some tracks for Columbia in an Atlanta hotel room in 1930. When 'Barbecue Bob' died in 1931,
Blind Willie McTell
took his place, and as they developed a tight sound together, Buddy and Curley were on all Blind Willie's recordings over the next few years. Joining Willie for some recordings in New York in 1933, Buddy recorded some tracks of his own that sold relatively well. He also began playing with Curley in The Georgia Browns, with guitarist Fred McMullen and singer Ruth Willis.
Buddy and the Georgia Cotton Pickers;
Buddy decided to learn guitar and soon found he had a talent for it: his playing was was so stylish he was talked of as a successor to Blind Blake. There were further recordings as a solo artist and with Curley and Blind Willie, and Buddy also cut 15 tracks with the young Josh White in his 'Singing Christian' phase. Just as his career was taking off, Buddy was convicted of murdering his wife and given a long jail sentence. When Blind Boy Fuller died in 1941, his manager JB Long, having lost his biggest act, petitioned to get Buddy out. After some bribes and guarantees were given JB was successful, so Buddy went straight to New York to record some solo tracks and, in October 1941, he cut two sessions with Sonny Terry and Brownie McGhee. A combination of WWII, and the 'Petrillo ban' meant that Buddy did not record again, so he went South to play in bars and on street corners, eventually dropping out of the music scene for the next twenty years.
One of the posthumous Columbia recordings: pretty good picking for a harp player!
In 1964, Buddy went to a Josh White concert in Atlanta and a backstage meeting led to him recording again. Despite offers from several record companies, Buddy's uncompromising character made him impossible to do business with, and his 1966 Columbia recordings were not issued in his lifetime. However, a Folklore Society concert recorded in Washington, released as 'Rediscovery', showed the extent of Buddy's talent. He played some Festivals in the late 60s and early 70s, where he impressed his audiences, but Buddy's awkward and mistrustful nature made it hard for him to progress with gigging and recording. When he passed away in 1984 Buddy was largely forgotten, but his re-released material showed he was a musician of the finest quality.