MISSISSIPPI FRED McDOWELL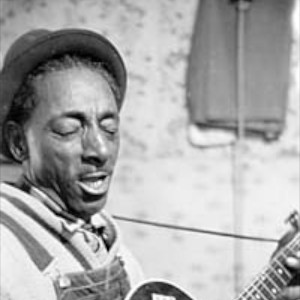 Fred McDowell was an enigma. A modest, self-effacing man who didn't even own a guitar until he was 37 years old, and who worked as a farmer until he was over 60, Fred was a prodigious virtuoso of the bottleneck guitar.
His command of the expressive 'vocal' quality of his playing, with it's slides and slurs, shows an intense and personal style that has been highly influential in the Blues.
In contrast to the overpowering bottleneck style of Elmore James, Fred's lyrical guitar would talk softly, shout with anger, then weep or laugh with the intimate nuances of a friend telling a story.
The wooded hill country around Como, where Fred spent his life, does not have large plantations like in the Delta, but many small farms, some of them owned by black families who had been there for generations.
This provides fertile ground for archaic musical styles passed down the years, as players like RL Burnside and Jessie Mae Hemphill would later show. Alan Lomax and Shirley Collins were were in North Mississippi in 1959 making field recordings of rural Blues songs as part of the Folk Revival movement.
As the researchers worked in a clearing one night, recording Lonnie and Ed Young playing their fife and drum music, a middle aged farmer approached carrying a guitar.
The tracks they recorded on the porch over the next few evenings revealed a direct link back to the playing of Charley Patton and Robert Johnson.
Fred's ringing tone and eloquent slide-work;
Fred was born a few miles away in Rossville Tennesee in 1904, and as a young man he met Charley Patton, who he described as "a loose mule runnin' around through the world".
When Fred went to parties he would sing along with the players, and when they had finished he would take a guitar and play what he had just heard. He was shown some bottleneck technique by his uncle, who used a polished steak bone as a slide. Fred adopted a rambling lifestyle, picking up work and playing opportunities where he could.
In 1941, he was given a guitar by a Mr. Taylor, a white Texan man, who had seen him playing in Memphis where he was working at a dairy. Shortly afterwards Fred married Annie-Mae, who was a great singer herself, and split his time between playing at parties or in the streets and farming a small piece of land outside Como.
Recommended Album
This quiet man with his unassuming manner made his slide-guitar talk for him. His superb technique and work-worn voice give this old man's Blues a passionate emotional effect.
Those field recordings made in 1959 were released on various folk compilation albums, but Fred was still playing for tips in front of Stuckeys candy store in town.
They did, however, prompt Chris Strachwitz to come and find Fred to record for his new Arhoolie label. The two albums they released in the mid-60's revealed a talented player who projected his thoughtful style of Blues with great emotional force. This time, he really was taken up by the Folk/Blues community.
He played the festival circuit and toured Europe to great acclaim, and his style began to influence young players.
Bonnie Raitt cites Fred as one of her biggest influences, as did the new generation of British players like the young Jo Ann Kelly (gone before her time) and her brother Dave, a stalwart of The Blues Band.
'You've Got to Move' was on the second Arhoolie album, and this song became Fred's signature tune, as well as his most profitable when it was covered by The Rolling Stones on the 'Sticky Fingers' album.
Fred don't play no Rock'n'Roll!
In 1966 Fred's 'Long Way from Home' album sold well and that year he also recorded 'Amazing Grace', an album of "Delta Spirituals" backed by his hometown Hunters Chapel Choir, with his wife in the line-up!
When they titled his 1969 album 'I Do Not Play No Rock 'n' Roll', it may have been to calm the nerves of purists who didn't like the idea of Fred playing an electric guitar backed by a young white band, but it proved that his sensitive style worked just as well in this setting.
He went on to record excellent live albums in New York and London, and was the subject of his own documentary film, as well as appearing in The Blues Maker and Roots of American Music.
As the royalties from the Stones' record began to come in, Fred looked set to have a comfortable old age but he was diagnosed with cancer in 1971 and passed away the following year.
Bonnie Raitt recorded several versions of Fred's 'Kokomo' and 'Write Me a Few Lines', and his influence is heard in the work of many later Blues players, including RL Burnside, Junior Kimbrough, Louisiana Red and Japanese slide-man Kiochi Fujishima. The old farmer planted his seed-corn deep, and it took it's time to grow, but he gave us a fine crop of Blues.