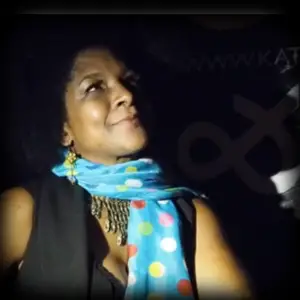 The Blues is like a virus, constantly regenerating and mutating into new forms, and virtually impossible to kill! Kat & Co is a distinctive collection of unlikely elements that blend to give today's insight into a music that is 100 years old, centred around the confident, statuesque figure of Kat, who manages to combine the soulful sounds of the original Blues Divas with the sassy verve of Etta James at her peak. The band Kat has put together is distinctly European in origin, but their influences are never far from the Mississippi, and their instincts are pure Blues.
Finding a Voice.
Kathleen Pearson is a native of Long Beach CA whose roots lie deep in her grandparents' mid-west farm. "I'd be out in the cornfield with my Grandpa and he'd be humming a tune, and when I asked about it he'd say 'You don't know that one?' and he'd teach me a work-song. We'd sing Gospel too, and I didn't know I 'had it', but when I sing it comes from instinct. My way is not my Grandmother's way, but it's natural thing." Working with some Chicago 'Divas' like Peaches Staten and Deitra Farr, and a little-known mid-west veteran called 'Miss Blues', Kat saw a future as a singer. In the 90s she was back and forth to England as a student, and formed a band in London called Black Girls Rock, who sang backing vocals for The Chemical Brothers and on D Ream's No.1 hit 'Things', which led to TV work and a record deal with Columbia. When the buzz faded Kat took a break, but returned to settle in London, determined to sing the Blues.
'Gli azzurri?'
She recruited a fine band from an unlikely source; Italy is not a hotbed of the Blues, but it has always had great musicians. Federico Paroli tickles the keys of organ and piano like his Chicago heroes Otis Spann and Pinetop Perkins so Kat can call on many styles, from drag-out barrelhouse and boogie-woogie to hot Gospel and Soul. Fred is also an award-winning animator whose work can be seen on the video for the Kat & Co single 'New Spleen Blues'. Guitarist Francesco Accurso is multi-talented too, with a wide range of styles from juke-joint boogie to heartbreaking sustained phrases, via a dirty Delta cigar-box slide. Bassists Vincenzo Virgillito and new boy Marco Marzola and London drummer Nick Owsianka round out the band.
'New Spleen Blues', with Federico's great animation;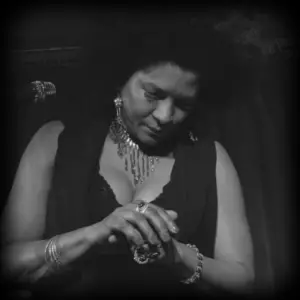 Francesco is also a meticulous producer, and the band's first album 'I Kat the Blues', issued on his own Tone Trade label, got a lot of acclaim. Mud Morganfield and Lil' Jimmy Reed guested on that record, which was written entirely by Kat and Francesco in a frenzy of activity, fuelled by Federico's musicality when the fires burnt low. The band have a mission to keep the Blues relevant to modern times and a new audience. Francesco says "The Blues is not about the cottonfields anymore" but people still need an outlet for their emotions about their love life, their family and their job, and everybody needs to dance sometimes! The endorsements of Mud and Lil' Jimmy were important to Francesco's vision of a slick, punchy, modern sound for the Blues that is true to it's roots, and the new album (out in early 2016) will feature both Brazilian string arrangements and the down-home harp playing of
Paul Lamb
.
Dynamic live show.
In performance, Kat & Co is focused on the dynamic energy of Kat's expansive persona, as she fully lives up to the title of Blues Diva. She can project a Chicago classic or a brand new song with flair and originality, and the latest single 'Bedroom Floor' is a song about suicide that makes you so angry you have to dance! The drive and subtlety of the band provide a wide platform for Kat's vocals, from Delta Blues through Gospel and Soul, to Chicago and a big band sound. From their driving dance music to the plaintive wail of a woman and a guitar, Kat & Co are a new variation on the everlasting potency of The Blues.