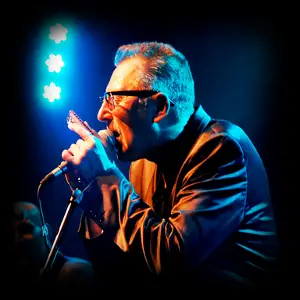 When Paul Lamb blows his harp, you would never instantly recognise his style, because he can play The Blues every-which-way. From 'whoopin' country tunes to blistering runs, with sprays of well-chosen notes spinning off the theme, to down-home boogies and up-tempo rockers, Paul's accuracy and command of tone make him a phenomenal player. He has not made his reputation in Chicago, but from many years on the British Blues club circuit, and his legions of fans in Europe mean he frequently tours the Continental club and Festival scene.
Paul Lamb was born near Newcastle, England in 1955 and he got the Blues harp bug early in life because as a fifteen-year-old he was already playing the local Blues clubs. He was lucky enough to meet and work with
Sonny Terry
on the club circuit, and the old maestro took the kid under his wing, showing him some 'whoopin' technique that Paul took on board. He is more than a Sonny imitator however, as he can drag out a Blues riff and swing through a dance tune with complete mastery of tone and a genuine feel for the music. After ten years touring the British club scene as a solo player, where he shared the stage with
Buddy Guy
and
Junior Wells
, Paul teamed up with guitarist Johnny Whitehill in the Blues Burglars. A few changes in personnel led to this becoming Paul Lamb and The King Snakes and a self named album was issued by Ace Records in 1990.
Paul and Chad Strentz do some 'whoopin';
Since then, Paul has released 15 albums, won a host of British Blues Awards, recorded sessions for
Paul Jones
's BBC radio show, and played countless club and Festival gigs all over Europe. Now in his 60
's
, Paul is promoting his latest album, 'Hole in the Wall' by playing with touring acts like The Heritage Blues Orchestra.