Eighteen-year-old Joe Willie Perkins started out as a guitar-picker in piano player Willie Love's band, which made many appearances on Rice 'Sonny Boy II' Miller's King Biscuit Radio Show. This early career was cut short for Joe Willie when an angry knife-wielding chorus girl severed the tendons in his left arm. Unable to manage his guitar, Joe Willie took up piano and joined slide guitarist Robert Nighthawk as the pair travelled around the Delta juke joints and the clubs of Memphis and Helena. When Nighthawk made a move to Chicago in 1945, Joe Willie stayed in Helena to play piano for Sonny Boy on his daily radio show and gig with his band in the evenings.

John Lee Hooker
's young cousin Earl was making a local reputation playing slide guitar in the style of Nighthawk, and Joe Willie joined him to tour the region, much as he had done with their mentor.
Sam Phillips
recorded Joe Willie's version of
Pinetop Smith
's classic 'Pinetop's Boogie' for Sun Records in 1953. From then on, Joe Willie took on the name 'Pinetop' and the tune became so closely linked to the player than many fans began to think he wrote it.
Pinetop backing Muddy Waters;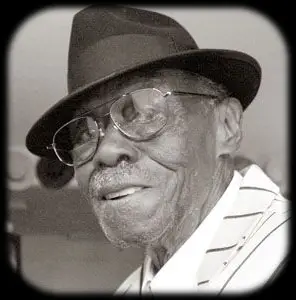 Like many Delta Blues players, Pinetop felt the pull of the growing Blues scene in Chicago, where he linked up again with Nighthawk. Gigging with Earl Hooker and Robert Nighthawk took up most of the next fifteen years for Pinetop, but he also worked as a session pianist for players like Albert King and Little Milton. When Otis Spann left Muddy Waters' band in 1969, Pinetop was invited to take his place. For over ten years Pinetop toured the world backing the Chicago Legend, recording albums like 'King Bee' and 'Hard Again', which featured Johnny Winter. In 1980, Muddy's backing band broke away; with Pinetop on the 88s, bassist Calvin Jones, harp player Jerry Portnoy and drummer Willie 'Big Eyes' Smith formed The Legendary Blues Band, cutting a couple of acclaimed albums featuring Pinetop's rolling piano and commanding vocals.
Pinetop in laid back mood;
At the age of 75, Pinetop finally cut a solo album, 'After Hours', with the resulting tour featuring Chess sidemen
Hubert Sumlin
and
Jimmy Rogers
. Pinetop continued to draw on the roster of Muddy's old collaborators for his albums 'On Top' and 'Legends'. When Pinetop was 91, the car he was driving was hit by a train, but it was going to take more than that to stop a man like Pinetop. He moved to Austin Texas, and slowed down a little; he only gigged twice a week at his local club, Nuno's, and appeared at various Blues Festivals and concerts. In 2008, Pinetop joined
Robert Jr. Lockwood
,
Henry Townsend
and
Dave 'Honey Boy' Edwards
on the album 'Last of the Great Mississippi Delta Bluesmen' which won a Grammy. One of the other nominees was Pinetop's own 'Live in Chicago' album. In 2011, Pinetop picked up another Grammy for his album 'Joined at the Hip', making him the oldest winner of all time at 97.
Lovely solo from a guy in his 90s;
When Pinetop died a couple of months later he had more than 20 bookings in his diary.