The mandolin is a small member of the lute family, usually having four pairs of strings tuned in unison. While it may be most associated with medieval Italian music, Vivaldi and Mozart would surely fling off their wigs and boogie to the sound of Blues Mandolin played by Yank Rachell and 'Papa Charlie' McCoy.
A lesser known exponent of the mandolin, Johnny Young, took this unpromising instrument back to Europe many centuries later, after he had played it onstage and in the studio with Howlin' Wolf and a host of Chicago Blues legends.
Although he was never a big solo star, Johnny's unique sound and precise technique added something special to the 'Golden Age' of electric Blues.
In 1918, Johnny Young was born at the sharp end of the Delta, in Vicksburg. When he was young, his family moved a few miles north to Rolling Fork, birthplace of Muddy Waters, and there Johnny heard The Mississippi Sheiks play their 'hokum Blues'. Johnny's uncle taught him to play guitar, and he also picked up some mandolin technique, which proved very popular when he started gigging at local parties and dances. In 1940, he followed his cousin Johnny Williams, who had made the familiar journey to Chicago to make a living from music. Future giants of Chicago Blues like Muddy and Little Walter were playing for tips around Maxwell Street, but Johnny's country-style mandolin playing meant he sometimes got to work with established stars like John Lee 'Sonny Boy' Williamson. When post-WWII prosperity brought customers to the Southside club scene, the Maxwell St. guys plugged their guitars in and started developing 'the Chicago sound', so there were many places to play.
Johnny's first record!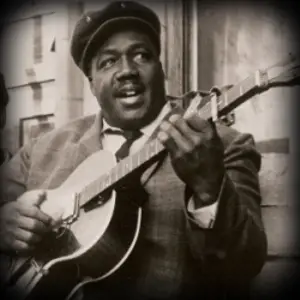 Johnny had a good voice and a solid guitar style, but it was his 'Blues Mandolin' that got him noticed, and also gave him the nick-name 'Man'. In 1947, alongside his cousin Johnny Williams, Man made his recording debut with 'Money Takin' Woman' c/w 'Worried Man Blues' for OraNelle. The following year, Snooky Prior played harp on Johnny's recordings for the Swing Master label, and Johnny repaid the compliment later when he played guitar on six tracks that Snooky recorded for Vee-Jay. By the mid-50s, Blues was being swamped by Rock'n'Roll and piano & sax R&B from New Orleans, so although Johnny stayed busy playing in Chicago, there was no recording or touring work. The changed in the early 60s when British bands like The Stones and The Animals brought our music back to the charts, and suddenly there was a big new audience.
Johnny formed The Chicago Blues Band with
Otis Spann
and Slim Willis, recording several times and contributing a track to
Testament Records
album about the murder of President Kennedy, 'Can't Keep from Cryin'. Johnny's mandolin was in great demand for session work, and he played with
Robert Nighthawk
, Little Walter,
Shakey Horton
and many more.
Chris Strachwitz
produced a couple of Johnny's albums for his Arhoolie label in 1965/66, and
Sam Charters
recorded him for the popular The Blues/Today series for Vanguard. When Shakey Horton started recording solo, Johnny was often by his side, and they both played and recorded with
JB Hutto
and the Hawks.
In 1969,
Blue Horizon
Records arranged many sessions with Johnny in New York, some of which appeared on his 'Fat Mandolin' album. The following year, Johnny recorded with
Big John Wrencher
and John Lee Granderson as The Chicago String Band, and then he released an album of "gut-bucket mandolin" on the BoB label. A tour of Europe with The American Blues Festival was followed by the album 'Can't Keep My Foot from Jumpin', but this was to be Johnny's swan-song. He passed away in Chicago from a heart-attack at the age of 56.