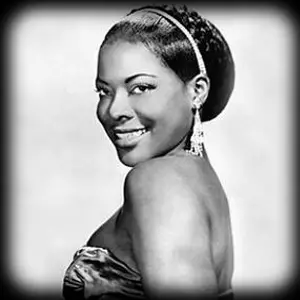 LaVern Baker was a Chicago singer with a lot of R&B hits during the early 50s, who was so incensed when a squeaky-clean white singer took an exact copy of her first big R&B hit to the top of the Hot 100, she took her to Court and when that failed she took the matter to Congress. She lost out there too, and the game continues, but this feisty lady with a strong, sweet voice was still a big hit on Rock'n'Roll tours for a decade. She was a born entertainer and stayed in the business all her life.
Dolores LaVern Baker was born in
Chicago
in 1929, and was singing in clubs when she was barely out of school, sometimes billed as 'Little Miss Sharecropper'. That was the name on her first record in 1949, and she was also known as Dolores Williams after an early marriage, but when she recorded for Okeh in 1951 she appeared as Bea Baker. She finally became LaVern Baker the following year when she was hired to front Todd Rhodes' band singing Jump-Blues. She signed for the Atlantic label, where
Ahmet Ertegun
and
Jerry Wexler
gave her some excellent material. She took 'Tweedlee Dee' high in the R&B charts in 1955 and reached No.14 in the Hot 100, but when Georgia Gibbs covered the song for Mercury, using the same arranger and musicians, it went Gold and hampered LaVern's sales. She sued them and lost, then petitioned Congress, but Georgia and other white singers continued to copy her hits.
LaVern's wild 'Tweedlee Dee';
Seven singles by LaVern made the R&B Top Ten in the next few years, including 'Jim Dandy' that went to No.1, and Neil Sedaka's 'I Waited Too Long' that 'crossed over' and made No.3 in the Hot 100, along with other impressive sellers in the 'white' market. LaVern was in big demand on Rock'n'Roll touring shows, doing TV work with Alan Freed and Ed Sullivan and contributing her music to several films. In 1958, 'LaVern Baker Sings Bessie Smith' was followed by an album of 'Blues Ballads', and then 'LaVern Baker Sings Gospel' and 'Saved' showed her versatility. These albums sold well and 'See See Rider' was her last big hit, resulting in an album of the same name. Moving to Brunswick, she went on to record 'Think Twice' with Jackie Wilson, a record so raunchy it had to be re-recorded twice to get any radio play.
PARENTAL ADVISORY! LaVern and Jackie's 'Think Twice' (X);
In the late 60s, LaVern was taken seriously ill while entertaining troops in Vietnam, and after a long recuperation in the Phillipines, she decided to stay there as Director of the Marine Corps Club, a position she held for over 20 years. Returning to The States in 1988, LaVern sang at Atlantic's 40
th
Anniversary show and did more soundtrack work. In 1990, she replaced
Ruth Brown
in 'Black and Blue' on Broadway, and then recorded three more albums and made some Festival appearances before undergoing surgery to amputate her legs due to diabetes. LaVern's swan-song came in 1995 with a track on a tribute album for Harry Nilsson, and she passed away in New York two years later.