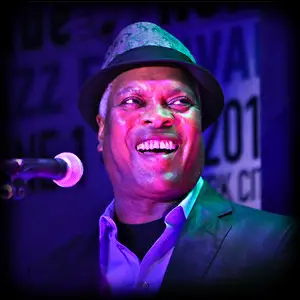 Memphis was 'Soulsville USA' in the 60s, and the band behind that world-changing music was Booker T and the MGs. The MGs had big solo hits of their own in the Stax days, including their most famous track, 'Green Onions', and their 'Soul Limbo' is the unlikely theme tune for TV coverage of cricket all over the world. Booker's distinctive Hammond B3 organ and his writing and production skills make him truly a 'Memphis Giant'.

Booker T Jones Jr. was born in Memphis in 1944, and attended Booker T Washington High School where he met his song-writing partner David Porter, Isaac Hayes and William Bell, who were all to make a big contribution to Stax Records. Booker was a musical prodigy, playing oboe, saxophone, trombone and piano at school, and the organ in church. When he was still at school, he made his first recording playing sax on Carla and Rufus Thomas's 'Cause I Love You' for Satellite Records. While hanging out at the Satellite record shop (later to become Stax) he met guitarist Steve Cropper, and when Stax owners Jim Stewart and Estelle Axton needed a house-band, the pair were founder members. Al Jackson Jr. played drums and when bassist Lewis Steinberg was replaced by Duck Dunn, a long standing partnership was formed. Booker T and the MGs had a worldwide hit with 'Green Onions' in 1962, and made many good-selling singles and albums for Stax, as well as backing countless huge hit records by Otis Redding, Isaac Hayes, Wilson Pickett, Sam and Dave and many more.
'Green Onions' was just a jam that became a world hit!
In the early Stax years, Booker was also studying classical music at Indiana University, and his compositional skills led to many great songs written with David Porter, and perhaps most famously 'Born Under a Bad Sign' with William Bell. This was a big hit for Albert King on Stax, and the MGs backed Albert and 'Pops' Staples on many great Blues sessions, even if the sign outside said 'Soulville USA'. Booker relocated to Los Angeles in the early 70s, and worked as a writer, producer and musician with the cream of the industry, as well as releasing a series of excellent solo albums. The MGs continued to play together and release albums, and still do, despite Duck and Steve's commitment to The Blues Brothers project, and the continual demands of session work. They won a Grammy in 1995 for the instrumental 'Cruisin'.
Countless collaborations with world stars have benefited from Booker's distinctive Hammond B3 organ, and his work with the Drive By Truckers led to them backing him on his solo album 'Potato Hole' which won another Grammy in 2010, to add to his 'Lifetime Achievement Award' in 2007.'The Road to Memphis' in 2012 made that four Grammys, and playing with the MGs, leading his own band, producing and playing as a guest on many tracks, Booker is still making a huge contribution to the music. Returning to the Stax label, Booker's latest album 'Sound the Alarm' is his 10th solo album.