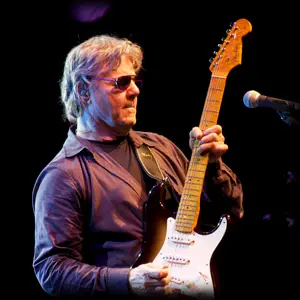 Steve Miller started out as a West-coast Blues-rocker, who rode the wave of guitar based rock and achieved phenomenal record sales in the 70s and 80s with his excellent songwriting talents and eloquent guitar style. With record sales pushing 30m. over his long career, Steve is currently re-visiting his roots as a Blues guitarist and thrilling crowds all over the world.
Born in Milwaukee in 1943, Steve would 'bang away' at a guitar given to him by an Uncle when he was five years old. Fortunately, Steve's parents were both into music and were very close friends with Les Paul and Mary Ford. Les gave the kid some tips and encouraged him to 'keep practising'.
When the family relocated to Texas, Steve got some similar help from
T-Bone Walker
, who was a friend of his father. Steve formed his first band, The Marksmen, with his classmate Boz Scaggs, and they were later to re-unite while studying at the University of Wisconsin in The Ardells. Both men decided to study overseas, and when Steve returned from Denmark he headed for
Chicago
, where he played with
Paul Butterfield
's band and jammed with
Muddy
,
Buddy
and
Wolf
. Taking up a residency in New York with his own band for a while, Steve moved to Austin, Texas before arriving in San Francisco in 1966. The Steve Miller Blues Band backed
Chuck Berry
on his live album recorded at The Fillmore West, and when Boz Scaggs joined them, they cut their own debut album 'Children of the Future' in 1968. Boz went solo after their next album, and Steve continued to produce an album a year without much commercial success. During this period Steve refined his guitar playing, and he was heavily influenced by
Johnny 'Guitar' Watson
's 'Space Cowboy' and 'Gangster of Love', which were to feature strongly in his later career and the great songs he went on to write.
Steve plays 'Space Cowboy' in 1974;
Steve's big break came after a long lay off following a car accident when, in 1973, 'The Joker' hit the top of the Billboard Hot 100 and the UK singles chart, ensuring massive sales for the album of the same name. This was a move away from Blues-rock and towards a more popular 'FM radio' style guitar-based rock. 'Fly Like an Eagle' in 1976 and 'Book of Dreams' the following year established Steve as a worldwide recording star and a stadium-filling live act. Steve included an element of rôle play in his stage persona, adopting the characters of The Space Cowboy, Maurice, or The Gangster of Love, and he usually included a few of the Blues numbers that he had 'cut his teeth on' too. After a break from the rigours of touring, Steve's 1982 album 'Abracadabra' was another great commercial success, but over the next ten years he tried some other guitar styles that didn't sell so well.
Steve could always pull a crowd with his live show, but in 2010 his album of Blues covers 'Bingo!', which included some guest solos by Joe Satriani, proved to be a big success. It was followed a few months later by 'Let Your Hair Down' from the same sessions, and Steve is now on a seemingly never-ending World Tour, revisiting his big hits and showing some style when he plays the Blues. Reviews confirm that his voice and guitar technique are as strong as ever, as he 'bangs away' into his 70s!