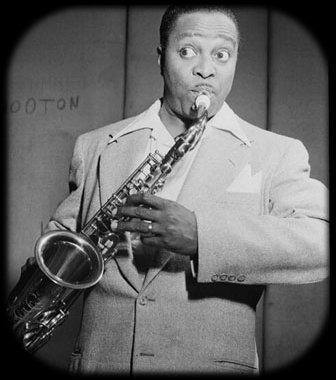 If one man could be credited with inventing jump-blues, it would be Louis Jordan.
His Tympani Five had 54 Top Ten R&B chart hits between 1942 and 1951, and eighteen of those made the top spot.
Louis infectious sax-led jump-blues crossed over into the white market for both record sales and live shows, especially in the post-War years, and when Rock'n'Roll began to hit the world stage in the 50s, Louis' Decca label-mate Bill Haley paid massive credit to the energetic vibe he had picked up from those Tympani Five records.
Louis was born in Brinkley AK in 1908, and followed his sax-playing father into the Rabbit Foot Minstrels, probably the best-known travelling revue of the 20s.
After studying music at Baptist College, he moved with the family to Philadelphia PA, where he played sax and sang with several swing bands.
In 1936, he was invited to join the Chick Webb Orchestra, where he sang (and had an affair) with  Ella Fitzgerald.
When the bandleading drummer died in 1938, Louis struck out on his own with the Tympani Five, which rarely had only five members, but they soon began to make a big noise.
'Beans and Cornbread' got the dancers out on the floor;
Their first record for Decca, 'Honey in the Bee Ball', was credited to The Elks Rendezvous Band, after the Harlem nightclub where they played, but all subsequent recordings by the drums/bass/piano/sax/trumpet combo, plus guests on guitar, horns and keyboards were billed as the Tympani Five.
Louis had a great ear for a tune and a finely honed sense of what people wanted to dance to. Dance crazes like the Jitterbug, the Lindy hop and the Jive needed energetic driving music, and Louis could write that stuff by the yard.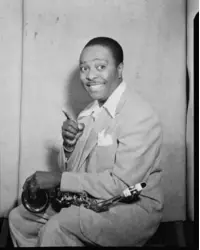 Like bandleader Cab Calloway, Louis picked up the idea that an exuberant, showy band encouraged audience frenzy to greater heights, so the Tympani Five appeared in flashy red, green and yellow suits, grinning and horsing around like maniacs.
As the War kick-started the economy, and then in the euphoria of the post-War years, the Tympani Five were in prime position to make it big.
They recorded many times for the Armed Forces Network and appeared in the big-budget wartime movie, 'Follow the Boys'. Post-war films like 'Swing Time' and 'Meet Miss Bobby Socks' spread their fame even wider.
Record sales were huge, as young people of all races turned to this infectious up-tempo jump blues. Louis' first hit in 1942 was the Blues shuffle,'Gonna Leave You on the Outskirts of Town'.
The Five went on to record a catalogue of hits for Decca, including 'GI Jive', 'Caldonia', 'Ain't Nobody Here but Us Chickens', 'Buzz Me', 'Choo-Choo-Ch'Boogie', 'Blue Light Boogie' and 'Five Guys Named Moe', which were only a few of their 18 chart topping singles.
When Louis went on the road they were the hottest ticket in town; 7,000 fans danced the night away at the Oakland Auditorium in 1947, and the Tympani Five played to massive mixed-race audiences all over the States except the South.
Fooling around with 'Caldonia';
In 1950, Louis recorded with Louis Armstrong, Bing Crosby and Ella Fitzgerald, and he tried his hand at fronting a big-band in 1951, but that didn't go well. He returned with a small combo the following year for the album, 'Jordan for President'.
In 1954 he left Decca for the LA-based Aladdin label and spent the next few years label-hopping, which didn't help his cause. One highlight of this period was a Quincey Jones arranged album of Louis' best songs updated as pure rock'n'roll, but at nearly 50, Louis was no teen-idol.
Louis continued to make fantastic high-spirited music throughout the sixties and seventies, recording his final album in 1973, before checking out on February 4th, 1975 in LA.
Louis Jordan had a fabulous career as a singer, songwriter, bandleader and saxophonist, but perhaps his greatest contribution to music was adapting the Blues form into the up-tempo shuffle known as jump-blues.
His effervescent performance style and feel-good lyrics may have been the catalyst that turned 'Race music' into R&B.