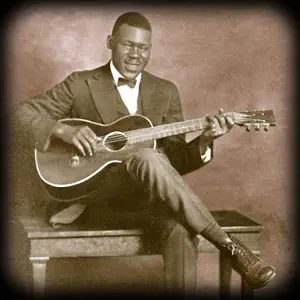 Apart from his enduring legacy of over 100 tracks of superb fingerpicking guitar, very little was known about the personal life of Blind Blake until very recently.
A death certificate discovered in Milwaukee states that Arthur Blake was born in 1896 in Newport News VA, but he was probably raised in Northern Florida or the Georgia Sea Islands judging from his 'Geechy' dialect.
When his career stalled in 1932, Arthur travelled to the South where he promptly disappeared, and his fate was unknown. What is certain is that his superb, virtuoso guitar technique set a standard that only the most accomplished players could approach, even a century later.
Blind from birth, Arthur Blake learned guitar as a way of earning a living in a hostile world.
As a young 'wandering songster', he travelled around the South singing Blues songs and music-hall ditties to the sound of his swinging Ragtime guitar, and earned himself a reputation across the region as a sparkling entertainer.
That fame brought him to the attention of record company scouts on the lookout for fresh talent to feed the growing demand for 'race music', that had been sparked by Blues Divas like Mamie Smith, Ma Rainey and Bessie Smith.
In 1926 Arthur signed for 'Ink' Williams' Paramount Records in Chicago, and his first release was the storming instrumental, 'West Coast Blues'. This display of exceptional talent meant that 'Ink' kept him busy in the studio for the next six years.
He was a first-call session player for all the Paramount stars and he featured on hit records by Papa Charlie Jackson, Ma Rainey, Gus Cannon and Ida Cox, among many others.
Flying fingers and a coffee advertisement on West Coast Blues;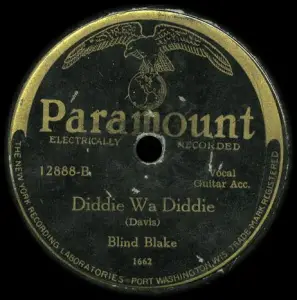 Arthur's solo efforts showed off a fine medium-pitched tenor voice on his songs, 'Police Dog Blues', 'Rope Stretching Blues', 'Too Tight Blues' and 'Diddie-Wah-Diddie'.
Much of his songwriting was laced with double-entendre, but violence, murder and suicide also made their mark.
It was the instrumental numbers, 'Southern Rag', 'Blind Arthur's Breakdown' and 'West Coast Blues' that singled out Blind Blake as a truly unique talent who set a standard that other stars of Piedmont style Blues could only aspire to.
Recommended Album
This comprehensive, re-mastered, 5-disc box-set is astonishing. If you like Piedmont guitar, this is essential listening, all 110 tracks of it!
The vaudeville show 'Happy-Go-Lucky' featured Blind Blake as it toured the States during 1930 and 1931, and the following year he was back in Paramount's studios in what turned out to be his final session.
Falling record sales in the early 30s led Arthur to return to the South, and he was never heard from again.
Rumours of his murder, or his death in a streetcar accident or by other mishap, could not be verified, but it was thought he must have died shortly after returning south, because such an exceptional talent could surely not be silenced for long.
The Milwaukee death certificate, discovered in 2013, solved the mystery as it shows that Arthur had married in late 1932 and relocated to Wisconsin, perhaps to be near Paramount's recording facility at Grafton.
He did not record again, however, because shortly afterwards he became ill with a severe lung disease.
Arthur spent a substantial time in hospital before being returning home in his final months, much too sick to perform. He expired on December 1st 1934.
Blind Blake and Jack Reacher
The first Amazon Prime series "Reacher" is based on the book "Killing Floor" by author Lee Childs.
In the book, Reacher, a blues fan and former military investigator, gets off a bus in the fictional town of Margrave, Georgia. He remembers his brother telling him that Blind Blake died there.
But researchers found that Blake actually died from pulmonary tuberculosis and was buried in Glendale, Wisconsin.
Even though this information has come to light since Childs' novel was first published, the TV series "Reacher" sticks to the original narrative about Blake's death.
Mr. Diddie Wah Diddie shows astonishing dexterity;