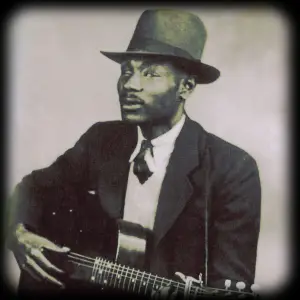 Piedmont Blues seems dominated by blind men who managed to survive by playing for change on streetcorners. That was true of Blind Blake,  Blind Willie McTell and Gary Davis, and none of them sold enough records to make a good living while they were in their prime. That was not true of Blind Boy Fuller, who had a strong career as a recording artist, but died at the age of thirty-three.
Fulton Allen was born in Wadeboro NC in 1907, and learned guitar as a boy by listening to the work-songs and field-hollers he heard around him every day, and picking up ragtime tunes and popular Blues songs from older players.
By his mid-teens he was starting to lose his sight and, as he was already married and needed money, Fulton began playing full-time on the streets of Rockingham and later in the bigger towns of Winston Salem and Durham. By 1928, Fulton was totally blind, but he had gained a reputation as a versatile musician with a powerful voice and a good ear for copying the records of Blind Blake. He would play outside tobacco warehouses for tips after work and got himself invited to play for money at weekend parties. Some of these gigs would involve playing with local harp player Saunders Terrell (
Sonny Terry
) and washboard wizard George Washington, and sometimes another blind guitarist, Gary Davis, who shared his huge repertoire of gospel flavoured folk and Blues songs.
'Step it Up and Go' is a real foot-tapper!
Local record store owner and talent scout JB Long, took Allen, Davis and Washington to the New York studios of ARC in 1935, where they cut several tracks including 'Rag Mama Rag'. The new names of 'Blind Boy Fuller' for Allen and 'Bull City Red' for Washington were conferred by JB Long as he promoted his new talent. Over the next five years 'Fuller' recorded 135 tracks, ranging from up-tempo rags like 'Step It Up and Go', to hokum classics like 'I Want Some of Your Pie', 'Truckin' My Blues Away' and 'Get Your Ya-Yas Out', and deep and soulful Blues like 'Steel Hearted Blues' and 'Lost Lover Blues'. He was usually joined on his recordings by some combination of his friends Gary Davis, Sonny Terry and 'Red'.
Have you ever wondered where 'Keep On Trucking' came from?
Fuller's songwriting owed a debt to a wide range of Piedmont artists, and his guitar style on the
National Steel
was in the shadow of Blind Blake, but he was very good at conveying what it was like to be blind, Black and poor in the 30s. The
'Spirituals to Swing'
Concert at Carnegie Hall in 1938 was due to feature Fuller, but it seems he was in jail for shooting a pistol at his wife, so Sonny Terry appeared instead. Soon after that, his playing partner Gary Davis began to get serious about religion, and in Fuller's later recordings, he includes some sanctified music himself, with 'Jesus is a Holy Man' and 'Twelve Gates of the City' among his final tracks in 1940. Fuller's wide range of styles and his open and honest presentation made him one of the best selling Blues artists of the pre-War period.
Fuller plays a 'Hokum' classic;
Fuller went to meet his maker on February 13th 1941, dying from blood-poisoning after complications from a kidney complaint. After he died, his protege Brownie McGhee issued 'The Death of Blind Boy Fuller' and was briefly persuaded to appear as 'Blind Boy Fuller II'. Fuller's real legacy comes to us in the form of his wide stylistic range, and his influence on the players of modern Piedmont Blues.