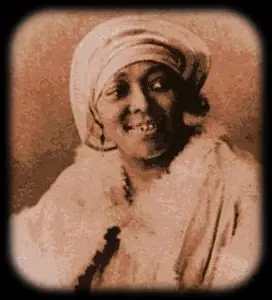 Lucille Bogan is infamous in the history of the Blues as the writer of some of the most sexually explicit songs ever committed to record.
Her song 'Shave 'Em Dry', recorded under the pseudonym Bessie Jackson, begins "I've got nipples on my titties as big as the end of my thumb/ Got somethin' 'tween my legs'll make a dead man come!".
Lesbian songs like 'Bull Dyke Woman Blues' and others about heavy drinking and prostitution, like 'Tricks Ain't Walkin' No More' and 'Stew Meat Blues', left little to the imagination but were usually tempered with a sense of humour.
The extremely raunchy 'Shave' Em Dry';
Lucille Anderson was born in Amory, Mississippi in 1897, but was brought up in Birmingham, Alabama, where she married young and gave birth to a son. Birmingham had a flourishing Blues scene and there were musicians in the family, so it is no surprise that Lucille was whisked off to New York to record for the Okeh label in 1923, after cutting a track for one of their talent scouts in Atlanta.
She was billed as Lucille Bogan after her marriage, and her records 'Lonesome Daddy Blues' and 'Pawnshop Blues' were really vaudeville numbers, so Okeh did not have the 'Blues Diva' they craved when they signed Lucille, although she lacked nothing in her voice and stage presence. After a couple of years she moved to Chicago, where she signed for Paramount and had a hit with 'Sweet Petunia' ('petunia' is Blues 'signifying' or double-speak for labia, by the way!)
Her recordings of this period feature backing from Tampa Red on guitar and pianist Cow Cow Davenport. Tampa Red had a big hit in 1929 with the suggestive 'hokum' track, 'Tight Like That', which may have been the catalyst for Lucille to get down and dirty with her lyrics. She recorded 'Black Angel Blues' ("I just love how she spread her wings!") which was later adapted by BB King as 'Sweet Little Angel', and 'Sloppy Drunk Blues', among her  early recordings for Paramount.
Recommended Album
All the good stuff Lucille Bogan recorded under the Bessie Jackson disguise is here, including both versions of 'Shave'Em Dry'.
SHAVE 'EM DRY
In the early 30s, Lucille moved to New York and soon teamed up with pianist Walter Roland, with whom she recorded more than 100 tracks for ARC's Banner label. After the move, Lucille was billed on her records as 'Bessie Jackson', and as well as the jaw-droppers listed above, she wrote about subjects like bad men in 'Dirty Treatin' Blues', and more alcoholic songs like 'Whisky Cravin' Blues'. 'Shave 'Em Dry' came out in 1935 (with Josh White on guitar), but even that seems to have been a cleaned up version. An even more explicit cut was recently issued on a compilation 'Hot Nuts and Lollipops'. It might come as no surprise that ARC did not renew her contract in 1935.
Lucille returned to her home-town and remained active on the Blues scene, managing her son's band, Bogan's Birmingham Busters. In the early 40s, she moved to California where she continued to write. Her last composition was called, 'Gonna Leave Town', and she finally made her exit on August 10th 1948.
B D Women........"don't need no men!"