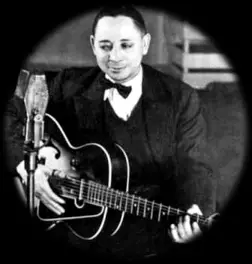 Tampa Red and Big Bill Broonzy were good friends, long-time drinking buddies and the twin powerhouses behind the Blues scene in 1930s Chicago.
Neither man had an ego problem and they both acted as mentors to the dozens of young musicians arriving from the South.
Red's apartment became a rehearsal space, rooming house and unofficial 'labour exchange' for players looking for gigs and people to play with.
Red, Big Bill and Memphis Minnie all played a huge part in developing the urban sound that developed from country Blues in the cities of the North. Red was a superb, innovative slide guitarist and bandleader in his own right and he wrote some timeless Blues classics, most of which were made famous by other people.
Hudson Woodbridge was born in Smithville GA on January 8th 1904, but his parents both died when he was quite young, so he went to live with his grandmother's family, the Whittakers in Tampa FL.
The youngster was taught guitar by his brother Eddie, and he would imitate the popular 'Hawaiian' guitar sound he heard on records by using a bottleneck on his pinkie finger.
When he went off to the city to seek his fortune, his light colouring and his Sunshine State origins quickly gave him the name Tampa Red.
Tampa Red and Georgia Tom's big 1929 hit, 'Tight Like That';
Playing his steel guitar and blowing a kazoo on a streetcorner in Chicago in 1928, this small neat young man was encountered by fellow Georgian Tom Dorsey, who could play rousing barrelhouse piano, so they teamed up.
Their second recording for Paramount was 'Tight Like That' a bouncy, dance-able Blues with suggestive lyrics that stated the 'hokum' craze. Georgia Tom and Tampa Red began appearing as The Hokum Boys with transvestite singer Frankie 'Half Pint' Jaxon, producing novelty songs like 'It's Red Hot' and an outrageous version of Leroy Carr's 'How Long, How Long Blues'.
Georgia Tom also worked as an arranger and session man for Brunswick records, playing with Ma Rainey among others, but by 1930 his strict Atlanta Baptist upbringing caught up with him.
He gave up the Blues and turned to Gospel, where he was hugely successful as a composer (Precious Lord, Peace in the Valley), arranger and choirmaster, working with Mahalia Jackson and later having his songs recorded by Aretha and Elvis.
Tampa Red was soon to get a new partner.
Recommended Album
Tampa Red is not remembered as a best selling artist, but he recorded some excellent, good-time Blues.
Red went on playing the Blues, his solo slide playing progressing to the point where others were copying his style, but sales of Blues records outside Chicago were not great. Big Bill Broonzy was gigging, but also working as a janitor to make ends meet, and the two men would play and drink together.
In league with Lester Melrose, they formed the nucleus of the Chicago 'Blues Mafia' in the 30s, providing a point of entry for newly arrived musicians from the South.
Red formed The Chicago Five to play jazzy hokum in the style of Kansas Joe McCoy's Harlem Hamfats, while playing Blues with a trio featuring Blind John Davis on piano.
Some of Red's uptempo music of the early 40s sounds like Rock'n'Roll, and he had a big hit with Lucille Bogan's suggestive 'Black Angel Blues', (covered by BB King as 'Sweet Litle Angel').
Many of Red's own songs like 'Love With a Feeling', 'It Hurts Me Too', were covered by artists like Elmore James, and a lot of his songs feature in the repertoire of Robert Nighthawk.
The original version of 'It Hurts Me Too';
Red continued to gig and record around Chicago in the Golden Age of Chicago Blues in the early 50s, but the death of his wife Frances in 1954 was a body-blow to Red.
He retired from music and spent some time in a mental institution, returning in 1960 to cut two albums for Bluesville.
Like the man himself, the music was tidy and unassuming, but the passion had gone. Denied the royalties he deserved from a fine body of work, Red lived with his friend Effie until she died in 1974 and spent the rest of his life in a nursing home until he passed away in 1981.
It is little short of scandalous that a man who put so much into the Blues and freely gave his help to so many musicians, should get so little out of it in terms of material rewards, living his last decades on welfare.
I suppose life is just like that, and maybe that's why we all get the Blues.