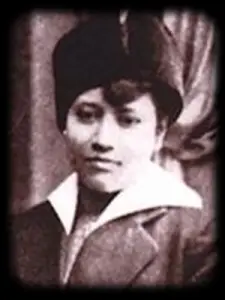 Lucille was the best selling Blues Diva in 1921/22 and she was still recording forty years later. Billed as 'The Georgia Peach' Lucille Nelson learned to sing in Church and went on the road as a singer in a tent show while she was still a teenager. She married pianist Bill Hegamin in 1914 and they performed with Jelly Roll Morton and Bill Jackson in Chicago. By 1919, Lucille was a nightclub singer in New York and after Mamie Smith's success with 'Crazy Blues', she signed with Arto Records and had a string of hits, as Arto leased her work to labels all over the country. 'Jazz Me Blues' and 'Arkansas Blues' were popular hits as the new 'Race Music' records made their first impact. This beautiful woman, singing 'He May be Your Man, But He Comes to See Me Sometimes', was the epitome of what a glamorous, seductive Blues Diva was meant to be.
When her Arto contract expired in 1926, she signed for Cameo and released another forty tracks. Lucille appeared in many Broadway musicals and revues over the next ten years. In the mid-30s, after a decade on the stage and several seasons starring in Atlantic City shows, Lucille retired from music and, in her early 40s, trained as a nurse. After 25 years in that profession, she was tempted back on stage by her old friend
Victoria Spivey
and recorded albums for Bluesway and Victoria's own Spivey label in 1962. Lucille gave several concerts in New York during the 60s, and she passed away there in 1970, at the age of 75.
Beale Street Mama from 1923;