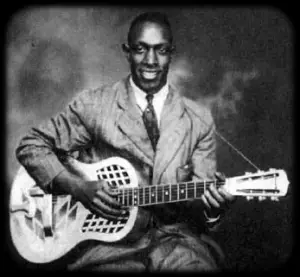 St.Louis pianist and singer Peetie Wheatstraw was not a great player- his piano skills were little more than functional- but his singing, with it's almost arrogant self-confidence, his trademark 'Ooh well,well', and his clever way with a lyric made him one of the best-selling Blues artists of the 30s.
William Bunch of Ripley TN arrived in St. Louis in 1929 hoping to make it as a singer. He adopted the character of 'Peetie Wheatstraw'- a figure from African American folklore- 'Peetie' being the evil twin of 'Stingeroo'. William Bunch told the tale that he had sold his soul to the Dark Prince at the crossroads at midnight in return for success as a musician. He called himself 'The Devil's Son-in Law' and 'The High Sheriff of Hell', but the figure behind the mask was joking and self-mocking rather than threatening. Supernaturally assisted or not, Peetie succeeded in recording over 160 tracks in an eleven year career.

Leroy Carr
and
Scrapper Blackwell
had many hit records in the style of their 1928 offering 'How Long, How Long Blues' and, as a result, piano and guitar duets became very popular. The only known photo of Peetie shows him holding a guitar, but his primary instrument was piano and he joined up with guitarists like
Lonnie Johnson
, Charley Jordan,
Kokomo Arnold
and
'Papa Charlie' McCoy
to exploit this fashion. Peetie's first record 'Tennessee Peaches Blues' was cut for the ARC label in 1930, and for the next decade he was in the studio every few months. His somewhat limited technique meant that his music began to sound a little repetitive, but his unique vocal delivery and savvy lyrics with their sexual, supernatural and political content, kept sales brisk.
The 'Devil's son-in-law' tells his story, if you can de-cypher it!
In 1934, Peetie joined the Decca label in Chicago, and their promotion certainly helped his career. His distinctive voice can also be heard on the work of Bumble Bee Slim and long-time collaborator Kokomo Arnold. After 1938, Peetie stopped accompanying himself on recordings and relied instead on high quality sidemen like Lonnie Johnson and New Orleans pianist 'Champion Jack' Dupree. In 1939, Peetie opened a club in St. Louis in partnership with Big Joe Williams and around this time he began recording more jazz based material with drummer Big Sid Catlett, pianist Lil Armstrong and trumpeter Jonah Jones.
This guy could really sing!
At what turned out to be Peetie's last studio session in 1941, he recorded 'Hearse Man Blues' and 'Don't Send Me Flowers While I'm Living'. A few weeks later he was riding in an automobile that was in collision with a freight train and he died from his injuries after a few days, on his 39th Birthday.