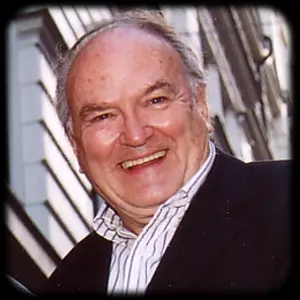 When Sam Charters was eight years old, he heard Bessie Smith's 'Nobody Knows You When You're Down and Out': it opened his eyes and ears, starting his quest to spread the word about the Blues and black culture in general. Sam's work as a musicologist, record producer and especially his Grammy winning book, 'The Country Blues', went a long way towards reaching that goal. He was one of the young Blues fans who toured the South in the late 50s, looking for the men who embodied the origins of the Blues.
Samuel Barclay Charters was born in Pittsburg PA in 1929, into a family who were deeply involved in all kinds of music, from Blues to Bartok. Sam played jazz clarinet at school, and when the family moved to California he continued to play as he graduated from Sacramento City College. His studies at Harvard were cut short when he was expelled for political activism, so Sam moved to New Orleans when he was 21, where he immersed himself in music and expanded his already huge collection of records. After Military service, where he again got into trouble over politics, he returned to California and graduated from Berkeley in 1956. There he also met and married Ann, a writer and photographer whose partnership greatly influenced his future work.
The couple embarked on a long spell of field-work, criss-crossing the South recording and researching the Blues, with some of their recordings included on Folkways compilations. This research resulted in Sam's groundbreaking book 'The Country Blues' in 1959, which had an accompanying album. Also in 1959, Sam's recordings of 10 Lightnin' Hopkins tracks, issued on a Folkways album, led to the re-emergence of this forgotten Bluesman, and soon Sam had re-introduced Sleepy John Estes to an audience hungry for more examples of this important strand of American cultural history. Taking a lead from this, many other young researchers enthusiastically investigated the hidden talents of Blues players who had not recorded for decades. Further books by Sam, with photographs from Ann, and further records produced by Sam, including some of the influential 'Chicago Blues Today' series for Vanguard, made him a prime mover in the 60s Blues revival.
Sam's political work included producing the records of Country Joe and the Fish, whose anti-Vietnam War songs echoed the thoughts of a generation. Sam and his family moved to Sweden in the early 70s, where he became involved in the music scene and he continues to pursue a very productive writing career. Sam would divide his time between Sweden and Connecticut and continued to publish his immaculately researched books.
In 2000, Sam and Ann donated their 'Archive of Blues and Vernacular African American Musical Culture' the the University of Connecticut, where Ann was a Professor. A condition of the gift was that the collection would not be broken up, and now students can access this huge resource of sound and video recordings, writings, sheet music, field notes and correspondence. 'The Story of New Orleans Jazz', published by the University of Mississippi in 2009, was Sam's 17th book.
Sam passed away on 18th March 2015.