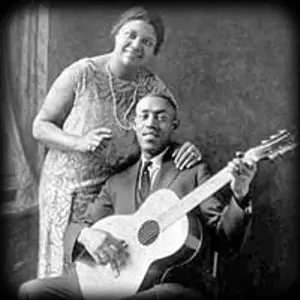 Sylvester Weaver was the first man to record a Blues guitar instrumental, and his recordings with Sara Martin in 1923 were the first songs where a Blues singer was accompanied by a single guitar. Sylvester's work on guitar and banjo were very influential in all kinds of Blues and Country music, but at the age of 30, he retired suddenly and never performed in public again.
A native of Louisville KY, Sylvester was born in 1897, but little else is known about his early life.
There was plenty of music in Louisville in the years following WWI, including several jug-bands, and when Sylvester made his first record, 'Roaming Blues' with
Sara Martin
, in New York in October 1923, he was already a very accomplished player. A further session the following week yielded more groundbreaking country Blues, with Sara again singing over a single guitar, and at the same session Sylvester cut his instrumentals, 'Guitar Blues' and 'Guitar Rag'. His slide-guitar technique, using a knife blade on the strings, was much imitated by players who heard his records and in the 30s, Bob Wills and the Texas Playboys made their adaptation of Sylvester's tune, re-born as 'Steel Guitar Rag', into a country standard. Over the next few years, Sylvester cut over 20 more tracks with Sara Martin, and he played slide-guitar and banjo on sessions with
Helen Humes
, Sally Roberts and violinist E L Coleman.
Sylvester's influential 'Guitar rag';
After a series of guitar and banjo instrumental releases, in 1927 Sylvester revealed a fine singing voice on 'True Love Blues', and then teamed up for a while with another singing guitarist Walter Beasley. They would sing and play on each others records, and had a couple of releases as Weaver and Beasley.
Their 'Hungry Blues' is a gruesome tale of a tapeworm, and it was almost the last thing Sylvester recorded, because after December 1927 he returned to Louisville and seems to have given up music completely. When he passed away in his hometown in 1960, the world was getting ready to hold up these pioneers of country Blues as the forefathers of modern rock music. When he slid a knife along the strings of his guitar, Sylvester could have had no idea of the monster he was unleashing:
Elmore James
, Jimmy Page,
George Thorogood
and thousands more came stomping in his footsteps.