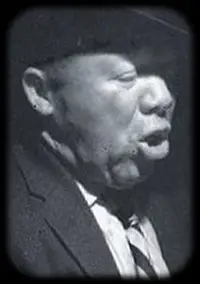 Speckled Red was a boogie-woogie pianist who was a fixture on the club scene in Memphis and St. Louis in the 30s and 40s. His proto-rap 'The Dirty Dozens' was a hit in 1929, and he recorded many versions and updates over the years.
Rufus Perryman was the birth name of Speckled Red.
He and his much younger brother William Lee Perryman, known as Piano Red and also Dr. Feelgood, were both black albino piano players.
Born in Louisiana and raised in Georgia, Red was playing piano in Detroit bars in the mid-20s before making his way to Memphis.
His ragtime flavoured boogie-woogie piano got his music recorded on the Brunswick label, but after initial success with 'Dozens' and other raucous material, sales died off as the Depression began to bite.
Red didn't record again until his Bluebird sessions in 1938, where he was backed by slide-guitarist Robert Nighthawk, but when they didn't sell well either, Red moved to St. Louis to play the bars and clubs.
Recommended Album
These tracks come from mid-50s sessions so the sound is good, and Red is in sparkling form as he explores his barrelhouse and boogie repertoire.
Red was 'rediscovered' in 1954 when he recorded for the Tone label and toured the States, and eventually travelled to Europe.
In 1960 Red cut some tracks for the Folkways label, but just as the Folk/Blues revival began to take off, age began to catch up with Red, and he made a diminishing number of appearances through the 60s.
Cursing Yo Mama? Maybe this is the first rap record;