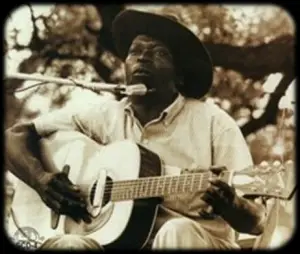 If country Blues is about lamenting a hard life, with poverty, violence, illiteracy, jail-time and betrayal by your woman, then Robert Pete Williams certainly lived that life. Despite being an endlessly inventive guitarist and a desperately soulful singer, Robert was never a big selling artist, but his appearances at Blues Festivals around the world opened a window on the origins of the Blues. The pain in his voice and the emotional impact of his playing give his work an authenticity that few can match.

Robert was born to a sharecropping family just outside Baton Rouge LA in 1914, and he never spent a single day in school. He didn't start playing music until he was twenty, when he made a guitar from a sugar box. He got a fine guitar from a white woman whose son had given up learning; she took every cent Robert could raise (four dollars) but he used that guitar well, gaining a reputation around the local bars and juke-joints. Unusual tunings, original fingerpicking patterns and switching around the verse structures gave Robert's self-taught interpretation of the Blues a truly unique quality. Robert's wife became jealous of the attention he was getting at gigs, and she burned his good guitar in a rage.
This man is singing from the heart;

In 1956, Robert was gigging at a juke-joint when he shot a man dead; he was convicted of murder and sentenced to life in Angola State Penitentiary. Blues researchers were seeking out the originators of the Blues all over the South and, following the lead of Alan Lomax, prisons were thought to be a fertile source. Robert was recorded in Angola by Harry Oster and Richard Allen, and the tracks they put down, like ' Prisoner's Talking Blues', 'Pardon Denied Again' and 'Angola Penitentiary Blues' are heart-rending examples of the Blues born out of confinement. Robert had always claimed he acted in self-defence over the killing, so Oster and Allen pressed for leniency and in 1959 Robert was released on parole, with the condition that he remained in Louisiana. The results of the jail sessions were issued on the album 'Angola Prisoner's Blues'.
The Blues of Despair;

Free to play again but unable to travel, Robert wrote of still being mentally imprisoned in 'A Thousand Miles From Nowhere', 'Got the Blues So Bad' and 'All Night Long', which he recorded after his release from the back-breaking labour of the prison farm. The parole conditions were lifted in 1964, and Robert's first gig outside Louisiana was at the Newport Folk Festival. His stunning performance there led to many invitations to play, and he often shared the stage with another star of the Newport show, Mississippi Fred McDowell. Robert continued to record, and his 1967 album 'Louisiana Blues', for John Fahey's Tacoma label, showed his astonishing technique. Robert rarely repeated any guitar phrase in precisely the same way and had the talent to imbue individual notes with meaning, using sustain and muting to display a virtuosity usually only seen in the finest jazz players. That album has some of Robert's most famous songs, including 'Grown So Ugly' but, despite its fantastic quality, the archaic style meant it did not make Robert much money.
Robert was in constant demand for gigs and toured America and Europe with several Blues Festivals. He recorded for a series of small companies in the 70s, including 'Rural' on the Fantasy label, shared with New Orleans guitarist
Snooks Eaglin
, and another fine set with
Roosevelt Sykes
. A hard life had made Robert old before his time and he gigged less and less often as his end approached. He passed away at his home near Rosedale LA, in 1980.