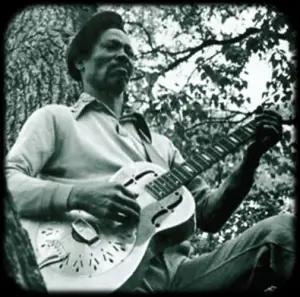 Tarheel Slim is the nom-de-Blues of the incredibly versatile Alden Bunn, who recorded Blues, Gospel, R&B, Soul, pop and Rockabilly songs under a bewildering variety of names. He was part of the vocal groups The Larks, The Wheels and The Lovers, where he recorded several hit duets with Anna Sanford, who was to become Mrs. Bunn, but the Piedmont Blues of his early days was always evident in his guitar playing.
Alden Bunn was born in Wilson NC in 1924 and began his career singing baritone parts and playing guitar with The Selah Jubillee Singers, who recorded for the Decca label.
 With singer Thurman Ruth, he broke away in 1949 to form The Jubilators, and they headed for New York. It is said they recorded for four different labels in a single day and used a different name each time! Along with Thurman, he then formed the six-man vocal harmony group The Larks, where Alden would sing lead on the bluesier numbers. 'Eyesight to the Blind' went to No.5 on the R&B charts in 1951, following up with another Top 10 hit 'Little Side Car' which saw The Larks on network TV and touring with
Percy Mayfield
and Mahalia Jackson. Soon Alden had signed as a solo artist for the Apollo label, where he was backed by
Sonny Terry and Brownie McGhee
and later he switched to Bobby Robinson's Red Robin imprint where his music was more strictly R&B. In the mid-50s, Alden could be seen in the harmony group The Wheels, and in 1956 he teamed up with Anna Sanford as The Lovers and they had a series of good selling records which crossed over into the pop charts.
Slim and Little Ann with the follow up to 'Too Late';
When the couple joined Bobby Robinson again at Fire Records in 1958, the Tarheel Slim name was on the label, with his better half billed as Little Ann. Their first releases were R&B duets which sold pretty well, especially 'Too Late', but as the decade turned Slim's music took on a more Rockabilly feel with records like 'Wildcat Tamer' and 'Number 9 Train', where his guitar was joined by the sparky lead runs of Jimmy Spruill. Slim continued to put out an eclectic mix of R&B, straight Blues, Pop and Soul records, with and without Little Ann, throughout the 60s.
'Number 9 Train' from Fire's 'Fury' subsidiary;
After a period out of the spotlight, Slim made a great comeback in 1975 with an album for the Trix label. 'No Time At All' was a mainly acoustic album where Slim's delicate fingerpicking and accomplished singing marked out his Piedmont roots. He played with
Cephas and Wiggins
on
Big Chief Ellis
's final album too, and this activity revived Slim's career on the Blues Festival and club circuit for a while, until he passed away in 1977.