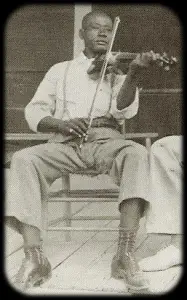 Some Bluesmen acquire legendary status without appearing in front of an audience of more than a couple of hundred, never making a single broadcast or selling any records at all. One of these is Henry 'Son' Sims, a fiddle-playing plantation worker who made some seminal recordings with founding fathers of the Blues; who made a telling contribution to their careers with his distinctive instrument; but who remains a footnote in the story of the Origins of the Blues. Son seemed content to play his fiddle in the shadow of his more extrovert companions, adding his colourful flourishes to their work.

Henry 'Son' Sims was born in the heart of the
Mississippi Delta
, just off Highway 61 south of Clarksdale, in 1890. He was taught to play the fiddle by his grandfather, an emancipated slave, and he counted
Charley Patton
among his childhood friends. When Henry returned from Army service in WWI, he began playing with a local string band, The Corn Shuckers, at local dances, fish-fries and parties, where he would have met up with Charley and other men who lived at Dockery Plantation from time to time, like
Willie Brown
and
Tommy Johnson
. When Charley was invited to record for Paramount Records in 1929, Henry and
Son House
went along with him to Grafton WS. Henry played fiddle on 13 of Charley's songs and recorded four of his own compositions, which were not released at the time, but were later issued on compilation records. Henry's eloquent fiddle playing made him a popular addition to any string band, and he continued to play the juke-joints with Charley until the wild man of early Blues passed away in 1934.
'Ramblin' Kid Blues' by 'Son' Sims, with Muddy Waters playing guitar;
By then Henry had added mandolin, guitar and piano to his skillset, and he continued to play gigs in his spare time while he worked as a field hand. A young man Henry worked alongside in the fields, McKinley Morganfield, was learning to play the Blues, and Henry took him under his wing as they played local social events, sometimes in the company of Robert Nighthawk. When Alan Lomax came to Stovall's Plantation in 1942 to record McKinley for the Library of Congress (for the second time) Henry went along to accompany him. That fateful recording session started the young man's career when he changed his name to Muddy Waters, included a couple of tracks where Muddy returned the favour and played on Henry's songs. Henry did not seem interested in joining his young friend in Chicago, as the fiddle is perhaps better suited to Country Blues, and he continued to play local gigs, often with Robert Nighthawk, during the 40s, but never recorded again. In 1958, Henry went to a Memphis hospital for renal surgery, but did not survive the operation.