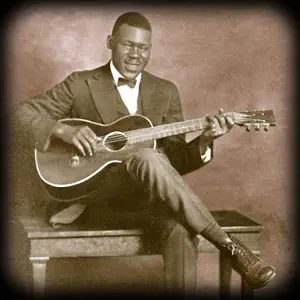 To most people the term 'East Coast' conjures up sophisticated images of New York, Washington or New England, but the Blues has its roots in the warmer soil further south where the tobacco grows. The respected Blues writer Bruce Bastin coined the phrase Piedmont Blues to describe the music from the coastal plain stretching from the Appalachian foothills to the Atlantic, and from Virginia down through the Carolinas and Georgia to Florida.
Piedmont guitar style has folk and ragtime influences, and is played with a light touch and a jaunty swing. Sometimes finger picks are used for volume, and there is often a hint of banjo technique in the typical Piedmont sound.
Blind Blake was a notable exponent of this style, with clean picking, steady rhythm and tasteful and imaginative phrasing making him a best selling Blues artist. Throughout the 20's he played on streetcorners, Saturday night dances and fish-fries all up and down the Georgia and Carolina coastline. His instrumental, 'West Coast Blues' was a hit on Paramount in 1926, and he recorded more than 80 tracks before his demise in 1933.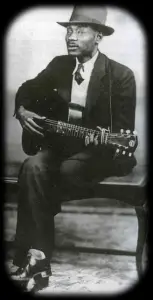 Blind Boy Fuller and his blind mentor, Gary Davis also recorded in the 20's. Davis taught Fuller many guitar tunes and was an excellent harp and banjo player: Fuller preferred a National Steel guitar which he often played with a bottleneck. Reverend Gary Davis found the Lord in 1937, and his repertoire moved away from ragtime towards a more gospel styling. His wide range and 'happy organ' guitar made him a favourite of the 60's folk-blues revival. Fuller moved to New York and after years of ill-health died there in 1941. By then a young Josh White, who learnt Piedmont style guitar as a 'lead-boy' for many blind players, was also a NY resident. Very many Piedmont musicians gravitated North to New York, just as Delta musicians had taken the train to Chicago, and planted their country blues in an urban environment that would both assimilate and change it.
Rev. Gary Davis conjures magic with a thumb and forefinger;
Perhaps the most influential Piedmont stylist was Blind Willie McTell. He preferred a 12-string guitar giving extra volume for street singing, but he possessed a rare delicacy of touch in his slow blues songs. McTell's 1928 recording of 'Statesboro Blues' and other seminal tracks provided a solid blues repertoire for the Allman Brothers, and Bob Dylan was a devoted disciple of McTell's work.
Brownie McGhee picked up the mantle of the Piedmont style, and after meeting blind Greensboro harp player Sonny Terry in 1939 through their mutual friend Blind Boy Fuller, they formed a partnership that led to a worldwide career at Festivals and Blues clubs that lasted until the 80's.
Many modern players incorporate this style into their playing, perhaps none better than Ry Cooder.
The plantations might grow tobacco rather than cotton, but the Piedmont is pure blues country.
This music is alive and well as newcomers Kill It Kid say 'Boom Shally Wah!';