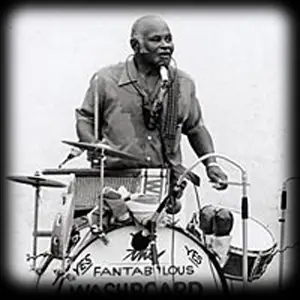 You often see a one-man-band called Washboard Willie spreading fun and frollicks around the Piedmont area of the east coast, but he borrowed his name from an older Blues player who carved a niche for himself in Detroit in the 50s. This Washboard Willie also spread good vibes, thrashing his board alongside some accomplished Blues musicians for over three decades, and eventually spreading the word overseas.
William Paden Hensley was born in rural Alabama in 1909, and not much is known about his early life, until he showed up in Detroit in 1948. It seems he was in a club one night in 1952, watching Eddie 'Guitar' Burns, when he started beating out a rhythm with the band. The club owner thought it was amusing and offered them a residency, so Willie grabbed a Washboard and joined up! Eddie soon cut a single 'Hello Miss Jessie' with Willie on board, and they made several more over the next few years. Willie became a session player working with Baby Boy Warren and other Detroit Blues artists, and by 1956, Willie had started his own band, The Super Suds of Rhythm, with Boogie-Woogie Red (Vernon Harrison) on piano and Calvin Frazier on guitar. Willie added bass and snare drums and occasional harp to his instrumentation, and displayed a clear, stylish vocal delivery on singles like 'Cherry Red Blues', 'Wee Baby Blues' and 'Fool on a Mule'.
Washboard Willie serenades the ladies 'After Hours';
Willie was in constant demand for gigs around the Detroit and Ann Arbor region, but his recorded output was limited to a few singles on local labels in the 60s. He continued working as a side-man for Baby Boy Warren, recording 'Not Welcome Anymore' alongside
Rice 'Sonny Boy II' Miller
, and also as one of 'The All-Stars'. Then he hooked up with a singer called Louise Harrison on her single 'Peace Be Still', and with her they recorded with Brother Joe Hairston, known as 'The Hurricane of Motor City'. The Civil Rights Movement was in full flow in the mid-60s, and Brother Joe's songs were about current issues like 'March on Montgomery', 'Rev. King Had a Time' and 'Alabama Bus'. In 1969, Barrelhouse Records issued an album of Washboard Willie's singles and unreleased tracks, which were mainly covers of Blues standards, called 'Whippin' That Board'.
Playing almost every night in the Detroit region, Willie remained almost unknown on the wider stage, but in 1973 he toured Europe with
Lightnin' Slim
,
Snooky Prior
and
Homesick James
. That sparked some interest on the Festival circuit, and Willie featured on several live recordings of these events, but as the years rolled by, he slipped into obscurity. His album was re-issued in 1982 as 'Motor City Boogie' on the P-Vine label, and he pops up regularly on compilations of Detroit Blues. In 1991, Willie passed away in his adopted hometown at the age of 82.