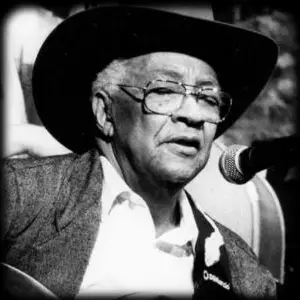 James Williamson claimed to have been born in 1905, but as he performed at a British Blues Festival more than a century later, that date is in doubt, and 1910 is a more likely vintage. What is not in doubt was his skill at ripping out a Blues riff on his strangely tuned slide guitar. He was less of a stylist than his better known cousin, Elmore James, and this man's work owed something to his early days wandering the juke-joints of the Mississippi Delta. James's fine, passionate voice is best heard behind his solo guitar, where he could give free rein to his eccentric sense of time.
James Williamson was born in Somerville TN, and he could already play guitar when he ran away from home when at about 10 years of age, and he supported himself by playing for tips on streetcorners. His ramblings took him south to the Delta, where he crossed paths with
Sleepy John Estes
,
Big Joe Williams
, mandolin player
Yank Rachell
and many other
originators of the Blues
that were following the same wandering lifestyle during the 20s. Young James also travelled over into the Carolinas where he met with
Blind Boy Fuller
, and his eclectic guitar style incorporated some of the delicate picking of the
Piedmont
players. James had settled in
Chicago
by the mid-30s and made his first recording in 1937 for RCA/Victor and he cut some tracks for Vocalion two years later with Buddy Doyle but without much success . He played in the clubs around the city, gaining a reputation as a side-man and backing
John Lee 'Sonny Boy' Williamson
at his Purple Cat Club residency. He also resumed his travels around the South until 1952, when he got a recording deal with the Chance label. The first session yielded seven tracks, but when James went back to the studio the following January he cut 'Homesick' with
Johnny Shines
on 'second' guitar, and he had a good-selling record and an enduring stage name.
Homesick's 'Crossroads' has a touch of 'Elmore' in there!
'Homesick James' was a fixture on the Chicago scene throughout the 50s, and he played bass in his cousin Elmore's band The Broomdusters, recording and touring with the band. 'Homesick' had some success as a solo artist with the Colt, Sue and USA labels in the early 60s, including the singles 'Atomic H', 'Set a Date' and 'Crossroads'. In May 1963, Elmore died from a massive heart attack in Homesick's apartment and from then onwards, that distinctive slide style featured more prominently in Homesick's own work. The following year, Homesick cut his definitive album 'Blues on the South Side' for the Prestige label, with Sam Charters producing and Lafayette Leake on piano and Eddie 'Playboy' Taylor on guitar. When the Blues Festivals came around he gained a new audience and he toured Europe many times over the years. He recorded some fine albums in the 70s in the company of Snooky Pryor, Sunnyland Slim and Shakey Horton among many others. Homesick continued to work as a side-man, recording with Chicago legends like Willie Dixon, Koko Taylor and Roosevelt Sykes.
Homesick at Home! Made for a German TV documentary in 1980;
Homesick's later years saw him touring and recording regularly, and when he cut some sessions in New Orleans in April 2004, released as 'My Home Ain't Here', he must have been well into his nineties. He continued to play and tour with the energy of a man decades younger, appearing in Europe a few months before 'Homesick' took the journey to his final abode, in December 2006.