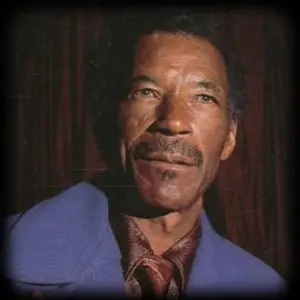 Otis V Hicks from St. Louis found fame in Baton Rouge, Louisiana playing his guitar in local bars with Big Poppa's band, where Buddy Guy would later learn his chops. He signed for Feature Records in 1954, billed as 'Lightnin' Slim' and recorded his 'Bad Luck Blues' for them before beginning a fruitful 12 years with Jay Miller for the Excello label. He often played his scrubby guitar with harp players, including Slim Harpo, Lazy Lester and 'Whispering' Smith. His down-home Swamp Blues was never chart material, except for his 1954 hit 'Rooster Blues', but Slim's slow drawl and rough edged guitar style opened the door for Tony Joe White and Tab Benoit among others. His dark, mournful voice and insistent, hypnotic guitar would be punctuated by "Blow your harmonica, son!", which became something of a Blues catchphrase. [stextbox id="custom" caption="Lightnin' Slim Discography" float="true" align="right" width="300″]Slim's guitar boogie style makes you need to move your feet, and the early Excello tracks are groundbreaking stuff.
ROOSTER BLUES/BELL RINGER
[/stextbox]In the late 60s, Slim's career got a boost when he was 're-discovered', and he went to Europe with the American Blues Festival. He toured frequently alongside Slim Harpo, and after Harpo died suddenly in 1970, Slim continued alone on the Blues Legends circuit. He passed away himself four years later in Detroit from stomach cancer, aged 61.

Slim plays an American Blues Festival with Whispering Smith
[weaver_youtube http://youtu.be/OwY2D0IgVhA id=videoid sd=0 percent=100 ratio=0.5625 center=1 rel=1 https=0 privacy=0]