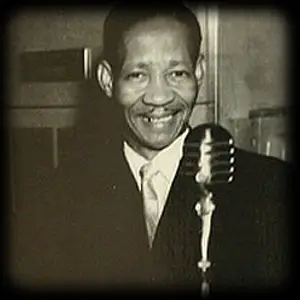 New York is not really a 'Blues town' like Memphis or Chicago, but there was always a thriving club scene in Harlem and Greenwich Village in the post-WWII years. Many Piedmont Blues players found an audience in The Big Apple, and one of those was pianist Bob Gaddy whose versatile keyboard work kept him employed in the clubs, as a studio side-man for some big stars, and who sold a lot of records as a singer and bandleader in the 50s.
Bob Gaddy was born in 1924 in Vivian, Virginia, a small coal-mining town. Bob's father was a miner who sang in a vocal quartet at the weekend, and Bob followed his lead, also singing in Church. In the late 30s,
Blind Boy Fuller
was a big Blues star, and Bob became a fan, and also started learning piano. He was conscripted into The Navy during WWII, and played boogie-woogie style in Blues clubs around San Francisco and Oakland when he was stationed on the
West coast
. After Bob was discharged, he found himself in New York, and after a chance encounter with
Sonny Terry
at a Lennox Street club, he was invited to play piano in Sonny's band, The Night Owls. In 1952, Bob played on Sonny's record 'Women is Killin' Me', and Sonny soon returned the favour by playing harp on Bob's solo debut 'Bicycle Boogie' c/w 'I Believe You've Got a Sidekick', which had
Larry Dale
on guitar and bassist Bob Harris. Bob also recorded with
Brownie McGhee
as one of his Jook Busters, and then formed his own band, The Alley Cats, to record 'No Help Wanted' for Jax Records.
Bob's laid back delivery and twinkling fingers on 'Operator';
Sometimes billed as Doctor Gaddy, Bob released a dozen singles in the late 50s, all of them with Larry Dale or Jimmy Spruill on guitar, and he also befriended New Orleans pianist
'Champion Jack' Dupree
, who wrote Bob's best-selling song 'Operator', on the Old Town label. Bob Dale also began recording as a solo artist in 1960, with Bob on piano, and had a minor hit with a cover of
'Stick' McGhee
's 'Drinkin' Wine Spo-Dee-O-Dee' on
Atlantic
.
Bob didn't make any more records or get picked up by the Folk/Blues Revival, but he continued to play club gigs around New York for many years. In 1986, all his Old Town material, including some great un-released tracks, was issued on the album 'Rip & Run', the title track being another 'Champion Jack' number. Two years later, Bob, Larry Dale and Jimmy Spruill played a re-union gig that was probably Bob's last major engagement before he passed away in 1997. Working as a chef in New York in his later years, Bob commented that, "We didn't make a lot of money, but we had a lot of fun!"