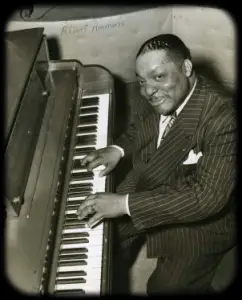 Chicago pianist Albert performed at New York's Carnegie Hall in the 1938 'From Spirituals to Swing' Concert. This event led directly to the 'Boogie-Woogie Craze' that lasted beyond WWII and spread this up-tempo piano Blues all over the world. Along with Meade 'Lux' Lewis and Pete Johnson, both of whom also played at that show, Albert's superb bouncing style got a whole generation dancing, and their accurate technique set a benchmark for modern Blues piano. Back in Chicago in the late 20s, Albert and Meade had shared an apartment building with Pinetop Smith, a pioneering 'boogie' pianist who died tragically young in 1929, the victim of a stray bullet in a bar-fight gone wrong. To some extent Pinetop's work was brought to public attention by his friends and followers, but their own imaginative skills and dexterity propelled the 'boogie-woogie' piano style far beyond the smokey South-side clubs where it was born.
Albert was leading his own band, The Rhythm Kings in Chicago in the mid-30s, playing swing music, and he cut his first records there in 1935. Two weeks after that 'Spirituals' concert, Albert and Meade cut a stunning album, 'The First Day' for the Blue Note label and they also began a long shared residency at New York's premiére jazz nightclub, 'Café Society'. They specialised in 'piano duets', pushing each other to daring heights of improvisation in a show that became the 'talk of the town'. This high profile also gave Albert the chance to sit in with jazz masters like Benny Goodman and Harry James, and he accompanied
Sippie Wallace
on the first recordings she had made in many years.
He also cut some sessions with his son, the talented sax played Gene Ammons. Later, when the 'craze' had calmed down, Albert joined vibe player Lionel Hampton's band for a while, but his health soon began to fail. One of the last gigs Albert played was at President Truman's Inauguration, before he passed away in 1949, aged just 42.
Albert and Pete Johnson perform a piano duet;