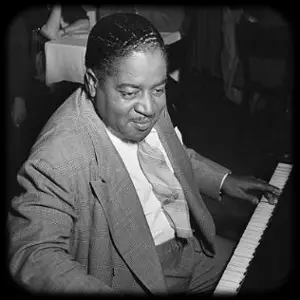 Pete Johnson was a drummer before he took up piano in the clubs and bars of Kansas City in the mid-20s. He teamed up with Big Joe Turner and they spent over ten years honing their act in upscale nightspots like The Sunset Cafe. After seeing Pete play in Kansas, producer John Hammond brought him to New York in 1936 to appear at The Famous Door Club. Two years later, Pete and Big Joe were invited to perform together at Hammond's momentous 'Spirituals to Swing' concert at Carnegie Hall, and their showstopping boogie-woogie 'Roll 'Em Pete' became a hit record and a piano 'standard'. This marked the start of the 'boogie-woogie craze' and Pete stayed on in New York to take up a residency at the prestigious Café Society club, alongside Albert Ammons and Meade 'Lux' Lewis, sometimes performing as The Boogie Woogie Trio.
Pete was an accomplished composer as well as a performer, and his albums were filled with innovative piano melodies. After several hit records, including solo tracks, boogie duets with Albert, and also many sessions with his old friend Big Joe, Pete moved to Buffalo NY in 1950. His career was almost ended two years later when he lost a finger in an accident, but he adapted his technique to cope with this difficulty. Gradually however, Pete faded from the recording scene as boogie-woogie lost its appeal in the wake of the Rock'n'Roll explosion. He did however, tour with
Jimmy Rushing
, and his skill as an accompanist was often in demand. The 1958 Newport Jazz Festival saw him make a solo comeback, playing Blues and swing tunes. He toured Europe that year but he also suffered a stroke. Pete again displayed remarkable resillience by returning to the piano, playing one-handed at the 1967 version of 'Spirituals to Swing'. A few months later he died at home in Buffalo two days before his 64th birthday.
'Roll 'em Pete', recorded a few days after the Carnegie Hall 'Spirituals to Swing' concert.