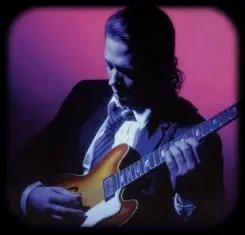 When Bobby was 17 he made a pilgrimage from Washington to the hospital bedside of Magic Sam in Chicago. The two became friends and Bobby determined to play Blues guitar in the style of his hero. He certainly rips out those ferocious West-side riffs on the four albums he recorded in the 90s. Bobby had surgery on his hand at the end of the decade, which put his career on hold for quite a while, but returned in 2004 with 'Natural Ball'. With his technique fully restored, Bobby tours with his band, a regular on the international Festival circuit, and he is also highly rated as a session musician.
His 2011 album 'Freaking Me Out' is entirely self-written and he has recently guested with the Roomful of Blues,
Jimmy Dawkins
and
Bob Margolin
. Bobby is well worth checking out live, especially if you're ever in NYC where you can see him in a club setting, because his mixture of Blues, Rock and Soul makes a great show.
Bobby fronting his own band;