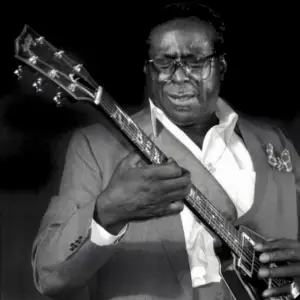 The eldest of the Three Kings, Albert learned to play the diddley-bow and cigar-box guitar as a kid in Indianola, Mississippi. He was born in 1923 as Albert Nelson, the son of a local preacher who died when Albert was 13, and he started out in gospel groups but, after hearing some Blind Lemon Jefferson records, he decided to learn to play the Blues. He drove a cotton truck for a living and bought a real guitar on just about his first payday. Albert was left-handed but played a standard guitar without re-stringing it, and so he played 'upside down'.
Albert started playing with The Groove Boys at parties and dances at the weekends, but didn't seem destined for a career in music. When he was almost thirty, Albert got itchy feet and went to play in St. Louis, then moved on to Gary Indiana (where he played with
John Brim
and the then unknown
Jimmy Reed
) and finally he wound up in Chicago. He cut 'Bad Luck Blues' and 'Murder' for Parrott Records in
Chicago
under the name Albert King, although he was actually called Albert Nelson. Any association with the Blues superstar
BB King
(who was also from Indianola MS) was probably considered helpful.
The records did not sell well, so Albert returned to St. Louis, gigging there for more than ten years, and in 1959 he signed for Bobbin Records. Their catalogue was later picked up by King/Federal Records, and Albert had a chart single and an album 'The Big Blue' in 1962. King/Federal did not push Albert's work, and in 1966 he signed for Stax in Memphis. With Booker T Jones and the M.G.s behind him, he recorded the bold, hard-edged Blues classics like 'Born Under a Bad Sign', 'The Hunter' and 'Cross-cut Saw' that made his name. The production values, backing musicians and well-judged use of horns put Albert King at the cutting edge of the new generation of Blues artists in the mid-sixties.
Albert plays 'Born Under a Bad Sign';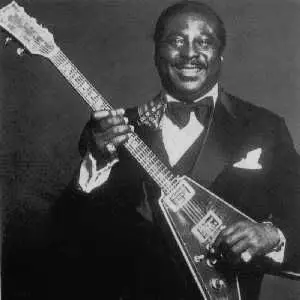 On stage Albert cut an impressive figure- a huge man playing a Gibson Flying-V left-handed and upside down. He called his guitar 'Lucy ', and had a hit single with 'I Love Lucy' (dedicated to his Gibson rather than the TV series). Some saw this as a straight copy of B.B. King's persona, but Albert had some chops of his own.
The Live Wire/Blues Power album recorded at San Francisco's Fillmore West in 1968 was a superb example of Blues performance, perhaps only bettered by B.B's 'Live at the Regal'.
Albums like 'Years Gone By' and 'King Does the King's Things', a tribute to Elvis's material featuring some great instrumental work, showed a player with a unique relaxed style in both his playing and singing.
His influence is apparent in the work of younger men like Joe Bonamassa and Stevie Ray Vaughan and he guested on Gary Moore's 1990 album 'Still Got the Blues'.
When he died in Memphis in 1992, the Blues lost a master of the understated phrase.
A little talk about 'Blues Power';