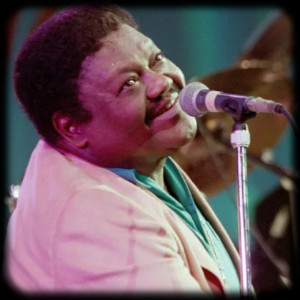 Some say, "The Blues had a Baby and they called it Rock'n'Roll." Willie Dixon said, "Blues is the roots and the other music is the fruits."
Before anyone knew what Rock'n'Roll was, the rollicking good-time R&B coming out of the West Coast and New Orleans showed the direct connection between uptempo Blues and the music of the future, and nobody showed it better than Fats Domino.
With his warm engaging personna, his rollicking piano style and his ever-present smile, Fats was one of the first to cross the race line, as his records appealed to young people all over the world.
Fats Domino and New Orleans go together like strawberries and cream.
Born in the Lower 9th Ward in 1928 to a creole French-speaking family, Antoine Domino grew up surrounded by music, on the streets, in the clubs and at home.
His brother-in-law Harrison Verret played guitar in local jazz bands and showed young Antoine around the keyboard. When he heard Louis Jordan's jump-Blues hit 'Choo-Choo-Ch'Boogie', a big crossover hit in 1942, the kid knew exactly what he wanted to do, and practiced at every opportunity.
In the next few years the teenager 'picked up a little weight', so local bass player Billy Diamond started calling him 'Fats' and the name stuck.
Fats had a residency at The Hideaway Club, and when Lew Chudd of the Imperial label came to town in 1949 asking local trumpeter Dave Bartholomew who was hot, they went down to the Hideaway to see Fats.
The result was a partnership that issued more that sixty singles in thirteen years and sold ship-loads of records.
When Dave crammed Fats and his band into Cosimo Matassa's tiny J&M studio in December 1949, history was about to be made.
This is where it all began:
The breakthrough song was 'The Fat Man', adapted by Fats and Bartholomew from the old 'Junker's Blues', an anti-drug song by local pianist 'Champion Jack' Dupree.
It sold a million copies, made No.2 in the R&B Charts and established a smooth, relaxed band sound that characterised  Fats' career with Imperial, with Earl Palmer's typically funky New Orleans drumming and some silky brass fills.
Only two of the next bunch of singles made the Top Ten but in 1952, the slow Blues, 'Goin' Home' went to No1.
The crossover hit 'Ain't That a Shame' in 1955 established Fats as a genuine star, despite the fact that crooner Pat Boone's version went higher up the pop charts.
The next two years brought Fats massive success with 'I'm in Love Again', 'My Blue Heaven', 'Blueberry Hill', 'Blue Monday' and 'I'm Walking'.
He appeared in the 1956 films 'Shake, Rattle and Rock', and 'The Girl Can't Help It', and there was a near riot at one of his gigs in Fayetteville NC when police used tear gas on the racially mixed audience of kids.
Recommended Album
There are several compilations available, but this 30 track collection has many early tracks as well as the R&B chart hits.
In 1963 the Imperial label was sold and Fats joined ABC-Paramount, who ditched long-time producer Bartholomew and added backing vocals to the mix.
In truth, Fats was not so popular by then; his records still hit the charts, but they had not troubled the Top Ten since 'Walkin' to New Orleans' in 1960.
When the British Invasion came along, Fats was caught between his original rocking style and a whole new sound.
He took up the challenge by touring Europe and his 1968 version of The Beatles 'Lady Madonna' was his last chart success; ironically the Fab Four's original was an 'homage' to Fats' piano style.
Fats rocks out at a Festival in Holland;
Fats continued to play his rollicking piano well into the twenty-first century, although since 1980, he did has not wandered far from New Orleans, except for the occasional stint in Vegas.
During Hurricane Katrina, Fats did not evacuate owing to his wife's ill-health, and they were rescued by boat. He released the album 'Alive and Kickin' ' in 2006 to benefit the Tipitina's Foundation work restoring New Orleans' musical heritage and helping local musicians.
Fats Domino passed away in October 2017 at the age of 89 at his home in Harvey, Louisiana.