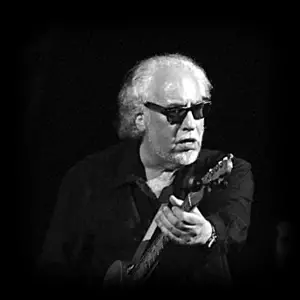 There are still Blues players around today who learned their craft at directly from the Chicago Legends. When Muddy Waters took on a young guitar player in 1973, he gave 'Steady Rollin' Bob' Margolin a masterclass in fronting a touring and recording band that has served him well for decades, and will hopefully continue for years to come.
Bob was born in Brookline, Mass in 1949. He started learning guitar while still at school and played with Boston psychedelic band Freeborne, making his recording debut on their 1967 album 'Peak Impressions'. Bob played around the Boston scene in the early 70s and his excellent Blues guitar drew the attention of Muddy Waters, who recruited him in 1973. He was part of the Old Master's band for seven years, playing at The White House for President Carter, appearing in
Martin Scorsese
's film 'The Last Waltz', and playing on Muddy's last recordings for
Chess Records
. He continued to add his licks to Muddy's next four albums, including the acclaimed 'Hard Again' and 'King Bee', which were produced by
Johnny Winter
. Touring the world and working to achieve perfection in the studio with Muddy gave Bob the best apprenticeship a young man could wish for.
Young Bob shares guitar duties with Hollywood Fats at one of his first gigs with Muddy.
In 1980, having picked up the nick-name 'Steady Rollin' Bob', he formed his own band and started pounding the highways playing the club and Festival circuit. Two albums on the Powerhouse label were followed in 1993 by his debut on the Alligator label, 'Down the Alley'. Bob's three Alligator albums established him as a major talent, with authentic Blues guitar and intelligent songwriting, although perhaps his vocals lack the grit of some Chicago veterans. He appeared with
Jerry Portnoy
on
John Brim
's 1994 album 'Ice Cream Man', and later Bob rounded up some of Muddy's old side-men,
Pinetop Perkins
,
Carey Bell
and Willie 'Big-Eyes' Smith to record the 'All-Stars Blues Jam'. Bob also released 'In North Carolina' on his own label in 2006, where he overdubbed himself to sound like a band, and explored many styles from Jump-Blues to 'talking Blues', reworking material ranging from
Tampa Red
to Bob Dylan.
Bob and his Italian friends having fun in Vienna;
Bob toured Europe in 2011 with Italian Bluesman Mike Sponza's band, and they recorded the studio album, 'Blues Around the World'. Another collaboration 'Not Alone', with singer and pianist Ann Rabson is an album of acoustic duets, and it was nominated for a Blues Music Award in 2013, as Bob continues to explore the modern Blues scene.