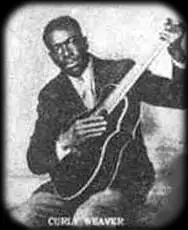 Atlanta in the 20s had a thriving Blues scene and Curley and his boyhood friend Barbecue Bob Hicks, playing their country Blues guitars, were at the forefront. With Eddie Mapp on harmonica, they played many parties and bar gigs, as well as playing on streetcorners. The loose collective known as The Georgia Cotton Pickers included these three players, along with Buddy Moss on harp and guitarists Blind Willie McTell, Peg-Leg Howell and Barbecue Bob's brother, Charlie Hicks, making up scratch-bands to play parties and fish-fries. Curley had a fine, rhythmic guitar style and a strong voice that would often spiral off into falsetto.
His only regional hit was 'No, No Blues' with Barbecue Bob in 1929, but the records Curley made with Buddy Moss as they accompanied Blind Willie McTell on his the classic, timeless recordings in the 30s are important examples of
Piedmont Blues
. Buddy also cut some sessions with Curley as a duo in the mid-30s, where they were billed as The Georgia Browns.  Curley eventually recorded again with Willie in 1950, but by then he was also going blind and he returned to playing on streetcorners in Atlanta for a few years. He finally passed away in 1962.
Curley's only well known record, 'No No Blues';