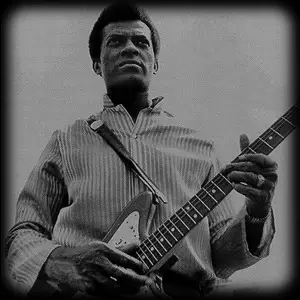 Jimmy Dawkins is not a superstar Bluesman, but his prickly, hard-edged guitar style marked him out as a West-side veteran, and his intense, committed vocals let you know he had made his life in the Blues. Many of his albums and songs had mis-spelled titles, but Jimmy was a shrewd man who knew the business, with his own label which looked after his artists, and he was a founder, with Bruce Iglauer, of 'Living Blues' Magazine.
Born in Tchula MS in 1936, James Henry Dawkins learned to play guitar as a kid, setting out on the bus to Chicago while he was still 18. He started out playing on streetcorners for tips, where he was spotted by Billy Boy Arnold, and soon he was getting gigs as a side-man in the West Side clubs, and picking up some of Freddie King's aggressive style.
He also picked up some recording session work, and began playing with
'Shakey' Horton
and
Magic Sam
, who introduced Jimmy to
Bob Koester
of Delmark Records. By 1969, Jimmy had been leading his own band around the club scene for quite a while, and his debut album for Delmark, 'Fast Fingers' gave him a nick-name that didn't actually suit his slashing, distorted guitar style.
The album didn't stir much interest in The States, but it was very well received in Europe, where it won the French 'Grand Prix de Jazz' in 1971. Jimmy's second album featured Andrew Odum on vocals and Otis Rush guesting on guitar, and sold much better in his domestic market.
Jimmy plays 'Sad and Blues';
Over the years, Jimmy became an institution on the Chicago club scene, but he also toured abroad regularly. He released at least 20 albums including a live set from the 1974 Chicago Blues Festival with
Sunnyland Slim
. He started his own label, Leric Records in the 80s, where he released albums by
Queen Sylvia Embry
, Taildragger and other Chicago artists, although his own records appeared on labels like Earwig and Wild Dog, who indulged his eccentric spelling on stuff like 'She Leff Me', 'So Wurrid' and 'Kant Shek Dees Bluze'. Jimmy continued touring America, Europe and Japan until his health began to fail. He passed away in Chicago in 2013.