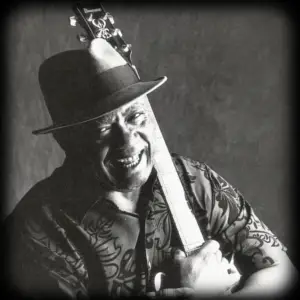 Austin, Texas has a vibrant live Blues scene, enriched by the presence of WC Clark, whose solid Blues band and soulful voice have been a mainstay of the club circuit there for decades. As a bass player he has backed many legendary players and as a guitarist his elegant lines recall the laid-back, tasteful style of Albert King.
Wesley Curley Clark was born in Austin, Texas in 1939 into a house where everybody sang and played music, and the church choir was a big part of family life. By the time he was 16, WC was playing guitar in local clubs and was recruited by TD Bell to play bass in his band The Cadillacs. Then he began a six year residency with Blues Boy Hubbard at an Austin nightclub where he was spotted by Joe Tex. Playing guitar with Joe's band, WC learned a lot about R&B and Soul as they worked the 'chitlin circuit'. When he came back to Austin in the early 70's he found the scene transformed, as the Blues crossed over into the mainstream and new, young, enthusiastic audiences came out every night.
WC and SRV play a 'Little Thing' on TV show 'Austin City Limits';
Southern Feeling was the first band WC formed, with singer Angela Strehli and keyboard player Denny Freeman. Jimmie Vaughan and Kim Wilson had formed The Fabulous Thunderbirds, and soon Jimmie's kid brother Stevie Ray persuaded WC to play bass in his new band Triple Threat, with Lou Ann Barton on vocals. WC and keyboard player Mike Kindred then wrote 'Cold Shot', which was to become one of Stevie Ray's big tunes. When Lou Ann left and Triple Threat became Double Trouble, WC formed his own Blues Revue and gigged relentlessly on the Austin scene at places like Antone's and opened many concerts for legends like BB King, James Brown, Albert and Freddie King, Bobby 'Blue' Bland and Sam and Dave, while also self-publishing his 'Something for Everybody' album in 1986.
WC Clark trades licks with his cousin Gary Clark Jr.;
WC's 50
th
Birthday Party was broadcast nationally on PBS, featuring Jimmie and Stevie Ray, Kim, Lou Ann, Angela and Will Sexton, an acclaimed rock guitarist who WC had taught as a kid. The programme brought WC to national attention and he signed for Black Top Records, winning two
Handy
Blues Awards for his second and third albums. Switching to
Alligator
in 2002, WC continued to build a solid reputation and his albums featured guest spots by
Clarence 'Gatemouth' Brown
, Albert King and Bobby Bland, and his songwriting grew in confidence. Over 100 Festival appearances in America and Europe spread WC's reputation for well chosen guitar licks and powerful Gospel vocals. In 2011, his album 'Were You There?' was his first release in seven years, and he can be seen regularly in Austin, especially at The Saxon Pub.