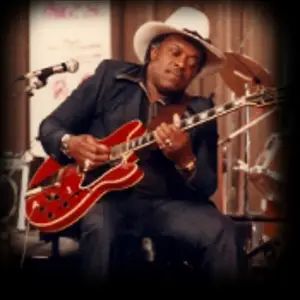 Even when The Blues is going through one of its slow spells, some performers still come to the fore who have something powerful and urgent to communicate. Buster Benton was one of those guys who put his body and soul into his music: his emotive vocals and heartfelt guitar lines gave his slow Blues an authentic pain, and his up-tempo music rang with joy. Although he remains a footnote in the bigger picture in the History of the Blues, Buster was the real deal.
Arley Benton was born in Texarkana AK in 1932, and like most of his generation, he learned to sing in church. Moving north to find work after WWII, he began to play guitar in the style of his hero
BB King
while living in Toledo OH, and by the end of the 50s, Arley was leading his own band in
Chicago
. He had a few singles released on small labels in the early 60s, billed as 'Buster' Benton, but before 'the British Invasion' the Blues was not selling well. However, Buster's solid guitar technique came to the attention of
Willie Dixon
who recruited him to The Chicago All-Stars, where Buster stayed for many years. Willie also wrote Buster's best known tune, 'Spider in My Stew', which gave him a minor hit on the Jewel label in 1970. That song was also the title track on Buster's best album, some years later, and although 'Spider' is a classic slow Blues, Buster's music in the late 70s somehow got labelled 'disco-Blues', but that's because it was so dance-able rather than any resemblance to that 115bbm tedium.
Buster's biggest hit, 'Spider in My Stew';
In the early 80s, Buster toured Europe several times, recording albums in France for Black & Blue in 1983 and '86, but by then his diabetes was becoming a major problem. Part of his leg was amputated in 1983, and the other was removed ten years later. Undeterred, Buster continued to perform, making three more albums for the Ichiban label and several memorable Festival appearances, and hooking up many times with harp player
Carey Bell
. Dialysis failed to halt the onset of Buster's diabetic condition, and he passed away in Chicago in 1996.