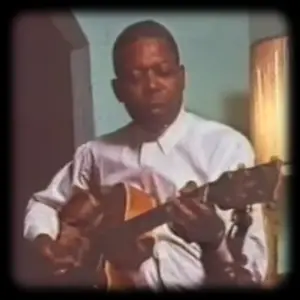 In the early days of electric Blues in Chicago, a lot of young musicians from the South were trying to get their songs recorded, but it was made difficult by the 'Petrillo Ban' on recording, which lasted for over two years as musicians fought for royalty payments for their music when it was played on radio and Juke-boxes. Floyd Jones was one of the guys trying to get started during that spell, and despite writing some great songs, it took a while for him to get something down on disc. Despite his fine voice, original songs and solid guitar work, the man could not catch a break.
Floyd Jones was born in Marianna AK, but brought up in the
Mississippi Delta
. It is rumoured that he was given his first guitar by
Howlin' Wolf
, and he used it to earn a living around the local juke-joints before finding himself in Chicago at the end of WWII. Floyd played for tips around Maxwell Street, along with
Little Walter
,
Jimmy Rogers
and
Leroy Foster
, but when he played his 'Stockyard Blues', a passing
Big Bill Broonzy
warned him that it was too good and someone would steal it! Floyd finally got to record the song in 1947 for the Marvel label, accompanied by the harp of
Snooky Prior
, and billed as Snooky & Moody. Floyd sang his song 'Hard Times' on a 1949 single credited to
Sunnyland Slim
& his Boys, which also had the young
Muddy Waters
on slide-guitar. Proving he was no slouch as a writer, Floyd recorded his songs 'Big World' and 'Hard Road' for JOB Records as a solo artist in 1951, and a few months later he cut the same tracks for
Chess
.
Floyd plays 'Stockyard Blues' for a 1970 documentary, and speaks about his early career;
Over the next four years, Floyd had singles out on Vee-Jay, JOB and Chess, and his version of 'On The Road Again' was the blueprint for
Al Wilson
's version with Canned Heat sixteen years later. Both versions owe something to an original tune by
Tommy Johnson
, but Floyd's vocal treatment also leans towards his mentor Howlin' Wolf. Floyd made many records as a side-man, and was a fixture on the Chicago club scene, but despite a talent for songwriting, his solo career was short. In 1966, he was part of
Johnny Shines
' band, alongside
'Shakey' Horton
and
Charlie Musselwhite
when they recorded for
Sam Charters
' 'Chicago/Blues/Today' series and, later that year, Floyd shared an album with
Eddie 'Playboy' Taylor
for Pete Welding's 'Masters of Modern Blues'.
In 1970, Floyd was part of 'Shakey's band on his album 'King of the Harmonica Players' and got joint credit on their album 'Do Nothing 'Till You Hear From Us', on the Magnolia label.
Although his work often appeared on Chicago Blues anthologies, Floyd's last recordings came in 1979 when he joined 'Honeyboy' Edwards, Sunnyland Slim, 'Shakey' and Kansas City Red on 'Old Friends'. He continued to work the Chicago club circuit, often playing bass, until he passed away in his adopted city in 1989.